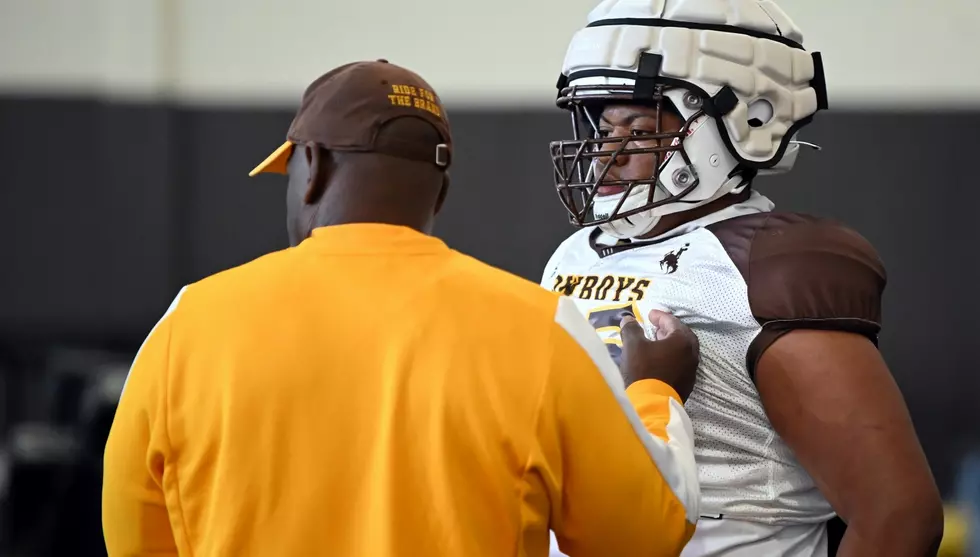 Wyoming's new defensive tackles coach is shacking up in the dorms
Wyoming's new defensive tackles coach Oscar Giles speaks with Caleb Robinson before a drill last spring./ DJ Johnson photo
LARAMIE -- Oscar Giles' official title is run-game coordinator and defensive tackles coach, but it's his side gig that brings him just as much joy -- if not more -- than a tackle for loss or a quarterback sack.
He's a mentor, a confidant.
And he's putting his money where his mouth is.
Since arriving on campus in February, Giles hasn't lived in a luxurious home with all the amenities a college football coach can afford, instead he's shacked up in the dorms with the incoming freshmen.
Why?
It was a suggestion from Craig Bohl. One Giles is thrilled to adhere to.
"I think it's a great idea by coach," Giles said Monday after Wyoming's fifth practice of fall camp. "I'm around just in case they need somebody to talk to. I come knock on the door and they knock on mine. So, I'm kind of the big brother."
Bohl joked that the air conditioning wasn't exactly blasting in the freshmen's living quarters last week. But UW's ninth-year head coach added he isn't asking Giles to do something he wouldn't -- or hasn't -- done himself.
"I've given him the responsibility to be engaged with the freshmen," Bohl said. "Many moons ago, when I was a younger man, I stayed in the dorms -- mixed results. As much as you can see guys in casual situations outside of a formal meeting, I just think that gives you a better indication, which is all the things we're striving to do within our program."
MORE UW FOOTBALL COVERAGE:
* Pokes Practice Report: Defense takes center stage
* Bohl: 'To lead them, you have to know them'
* Bohl says he wants to 'connect' more with players
* Craig Bohl: 'We have the ability to be pretty good'
Giles' has an infectious smile. It's warm and inviting, just like his personality. After 23 years as a coach, perspective has become just as important as the victories. And he's had plenty of experience with the latter.
Giles was on Mack Brown's staff at his alma mater, the University of Texas, when Vince Young willed the Longhorns to a BCS title over USC in 2005. It was arguably the most memorable game in the history of this sport. He helped lead the Houston Cougars to a No. 8 ranking and a Peach Bowl win over Florida State in 2015. In his lone season at Louisiana Tech, the Bulldogs claimed a division title and won The Heart of Dallas Bowl.
He says none of that would've been possible without building relationships with his players.
"You know, I think about some of the championship teams I was fortunate to be on, and that's what it was all about," he said. "You know, it wasn't about, hey, we got all these athletes. It was the gel.
"The common theme was guys working together. You know, it was nobody bigger than the team. That's what I'm seeing right now."
Giles, a native of  Palacios, Texas, less than three hours southeast of Austin, recalled his feelings as a young freshman at UT. He was homesick. At times, he felt like there was no one to talk to. He remembers that being an uncomfortable thought, let alone something he wanted anyone to know.
That's when he was introduced to a mentor on campus, Earl Campbell.
"He worked at UT at the time," he said of the former Heisman Trophy winning running back and NFL Hall of Fame inductee. "He was like, 'let me tell you something, you're going to be alright, Giles.' He was that guy. If it wasn't for him, I don't know what would've happened because I got homesick and missed my family.
"So, I can imagine what some of these guys are going through that are from Nebraska and Texas. It's always just kind of good to be there and be a shoulder. They know me and they can come up to me."
Giles did stay in Austin. There he was a three-year starter and led the 'Horns to a 1990 Southwest Conference Championship. The defensive lineman was named a semifinalist for the Outland Trophy. That will happen when you wrap up your career No. 2 in program history for fumble recoveries (9) and 10th in sacks with 22.
Giles went on to play for the Atlanta Falcons. After his brief stint in the NFL, he headed north to Canada where he helped lead the Toronto Argonauts to a Grey Cup Championship in 1996.
Giles certainly has an impressive résumé on the field and on the sideline, but the man he is replacing, Pete Kaligis, was best known for his humility and the way he interacted with players.
Giles is fully aware of what Kaligis did during his 13 seasons in Laramie, both on and off the field. But that, he said, is not why he's making this extra effort.
"I have a different perspective about it, you know, because when I first started, you want to win championships and I was fortunate enough to win a national championship," he said. "... I want to win another championship, but it's about the kids now ... These kids, that's all they want. They want to do things right for you, but they want to know that you got their back. I can remember when I was a kid, that was the same deal. I want to make sure that coach had me.
"... I told myself when I first got here, I want to meet every offensive guy and I want to know who they are. That's how I am. I think getting to know these kids is a big, big thing for us. These are different kinds of kids now. You can't hoop and holler, you have to get to know them and they'll do anything for you."
While Giles' hire was lauded because of his deep ties to recruiting in the Lone Star State, it's his charisma and personality that will likely hook players and keep them.
"He's been an engaged coach, so we're really pleased to have him," Bohl said. "... It's been fun to see him embrace all our guys."
LOOK: Pokes' unis through the years