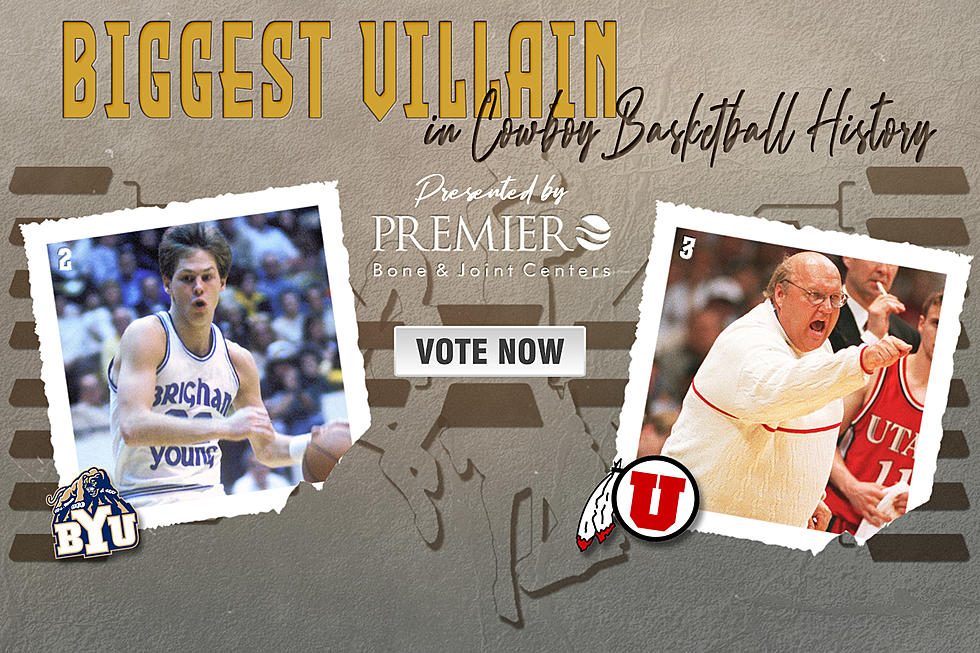 Wyoming's Un-Sweet 16: No. 2 Danny Ainge vs. No. 3 Rick Majerus
The former face of BYU hoops goes up against Utah's sweater-wearing bench boss with a trip to the title match on the line / Jen Kost graphic
LARAMIE -- There's a few things that can land you on a list like this one.
Beating Wyoming with regularity certainly makes you a thorn in the side. Making stupid decisions will also draw the ire of fans. Being an all-round jerk will do it, too.
This is our version of the Un-Sweet 16, pitting the biggest villains in Wyoming Cowboys basketball history against one another and eventually crowning the worst of the worst. This won't be our opinion, it's yours. You can vote for who will advance to the next round by clicking on the box at the bottom of this page.
We did our best to round up the ultimate enemy of the Cowboy State. We reached out to people in the know, from different decades of UW basketball. Don't be surprised to see plenty of rivals on this list.
Here's today's matchup:
No. 2 Danny Ainge vs. No. 3 Rick Majerus
I asked Wyoming legend Bill Garnett if Danny Ainge was a "crybaby."
"I call him a great competitor," he said of the former BYU star.
What about some of those memorable games against Ainge and the Cougars?
"We kicked their ass," Garnett said. "The WAC back then had three Top-20 teams. We feared nobody. Charles (Bradley) was a tremendous leader and (Jim Brandenburg) always has us prepared. Ainge was one of several tough competitors back then, but honestly, we were loaded with talent in '81. We felt like nobody was going to beat us at War Memorial Fieldhouse.
"That's as nice as I can be about BYU."
Garnett, who was selected No. 4 overall by the Dallas Mavericks in the 1982 NBA Draft, faced Ainge six times during his time in Laramie. In each season -- 1978-1981 -- the two rivals split the season series.
One that stands out most is the final meeting.
Wyoming slid past No. 15 BYU 86-84 in double overtime in front of a raucous crowd inside the old Fieldhouse. Legend has it Ainge tried to undercut a leaping Mike Jackson, who instead used the senior's back as a springboard for the game-tying dunk. Ainge missed a wide-open shot at the end of regulation.
The debris hit the floor, BYU's WAC title hopes were dashed and Frank Arnold opened his mouth, labeling Cowboys fans "despicable," an unofficial title that was worn as a badge of honor in those days.
Wyoming would claim a conference crown with wins over Utah, Air Force and UNLV to close out the season. The Pokes knocked off Howard in the opening round of the NCAA Tournament before falling to Illinois, 67-65, two days later.
Let's face it, Ainge was good. Really good.
Most players and coaches on this list will be. His coast-to-coast drive and jump shot to beat Notre Dame and advance to the Elite Eight is still played every March. Four times he was named an All-WAC Selection. In '81, he was named the league's Player of the Year and earned the title of All-American after averaging 24.4 points per game.
MORE UW ATHLETICS NEWS VIA 7220SPORTS:
* UW hoops great Theo Ratliff gets call to Alabama Hall
* Want to watch Josh Allen crush some dingers?
* 100 Wyoming student-athletes honored at Stole Ceremony
* Wyoming wideout patiently carving out his role
Long before the NCAA Transfer Portal became a thing, Rick Majerus was hacking and whacking scholarships left and right.
It was his way or the highway on the court and in the classroom.
Utah's head coach was notorious for his profanity-laced tirades on the practice court. Rumors have it he even dropped his pants once. It was a not-so-subtle way of telling a player to kiss his you know what.
A great majority of Wyoming fans considered Majerus public enemy No. 1 on the basketball court. A Sports Illustrated poll conducted amongst the Pokes' faithful in 2003 said so.
The "Fat man in a little sweater," as the student section would chant, would pound the scorer's table in frustration and was known to toss a haymaker at a Gatorade cooler or two. UW athletics director Paul Roach even demanded a public apology for his temper tantrum, one that also included a heated exchange with the Cowboys head coach, Benny Dees, during a 1992 game in Laramie.
"I think at the very least he should have apologized to the officials at the scorers' table and our fans," Roach told the Deseret News, adding that a one-game suspension also would be appropriate.
Majerus quickly fired back.
"It goes to show you he's played too many football games without a helmet," he said of Roach. "... I didn't know that the (Western Athletic) Conference was operating out of Laramie, Wyo., and that Paul Roach is now the commissioner."
Majerus, who coached the Utes from 1989-2004, capped his time in Salt Lake City with an overall record of 323-95 and a conference mark of 152-43. How many of those losses came courtesy of the Cowboys? Eleven.
None of those 26 meetings were bigger than the March 2, 2002 tilt in Laramie.
With the game on the line, Wyoming's Marcus Bailey toed the stripe and drilled two clutch free throws to give the home team a 57-56 lead with just seconds remaining. Utah got off one desperation heave at the buzzer before the more than 16,000, an arena record, rushed the court.
The Pokes were Mountain West champions.
"Beating Rick Majerus and Utah at home for the conference championship was one of the best things I was ever able to experience playing basketball," former UW star forward Josh Davis said. "... The man is definitely a villain."
Reggie Slater, who played for the Cowboys from 1988-92, agrees with Davis.
"Rick Majerus could fit the bill of a villain, puppet master," he said, adding that he recalls the "many bruises" from those games against the Utes. "He had a brilliant basketball mind that translated to his players playing beyond their capabilities."
There's no questioning the results under Majerus. The future College Basketball Hall of Famer led Utah to the national title game in 1998. The Utes fell to Kentucky 78-69. Majerus won six WAC titles and added three more in the Mountain West. Five times he was named the league's Coach of the Year. He won more than 500 games in stops at Marquette, Ball State, Utah and eventually Saint Louis.
The man could coach. That's what made him even more insufferable in the high country.
WYOMING'S UN-SWEET 16 SERIES:
Monday: No. 1 Reid Family vs. No. 16 Paco Larsen (Reid Family moves on with 95.5% of the vote)
Tuesday: No. 2 Danny Ainge vs. No. 15 Antonio Davis (Ainge moves on with 93.4% of the vote)
Wednesday: No. 3 Rick Majerus vs. No. 14 David Turcotte (Majerus moves on with 92% of the vote)
Thursday: No. 4 Frank Arnold vs. No. 13 Lee Cummard (Arnold moves on with 74.8% of the vote)
Friday: No. 5 Larry Eustachy vs. No. 12 Joe Scott (Eustachy moves on with 58.1% of the vote)
Monday: No. 6 Michael Smith vs. No. 11 Norm Ellenberger (Smith moves on with 61.4% of the vote)
Tuesday: No. 7 Rafael Araujo vs. No. 10 Petie Gibson (Araujo moves on with 94.8% of the vote)
Wednesday: No. 8 Key Injuries vs. No. 9 MW Officials (Key Injuries moves on with 72% of the vote)
Thursday: No. 1 Reid Family vs. No. 8 Key Injuries (Reid Family moves on with 57.4% of the vote)
Friday: No. 2 Danny Ainge vs. No. 7 Rafael Araujo (Ainge moves on with 80.1% of the vote)
Monday: No. 3 Rick Majerus vs. No. 6 Michael Smith (Majerus moves on with 80% of the vote)
Tuesday: No. 4 Frank Arnold vs. No. 5 Larry Eustachy (Arnold moves on with 56.9% of the vote)
Wednesday: No. 1 Reid Family vs. No. 4 Frank Arnold (Reid Family moves on with 52.3% of the vote)
Just The Facts: Size Doesn't Matter For Wyoming's War Memorial Stadium
Did you know it would take the populations of
Gillette
(32,857),
Laramie
(32,381),
Rock Springs
(23,319),
Sheridan
(17,844) and Wright (1,200) to create a sellout inside Michigan's famed 107,601-seat
Big House
, the largest college football stadium in the nation?
For those of you not familiar with the
Cowboy State
, those are Wyoming's third through sixth most inhabited cities, along with the small mining town in Campbell County.
- Just The Facts: Size Doesn't Matter For Wyoming's War Memorial Stadium