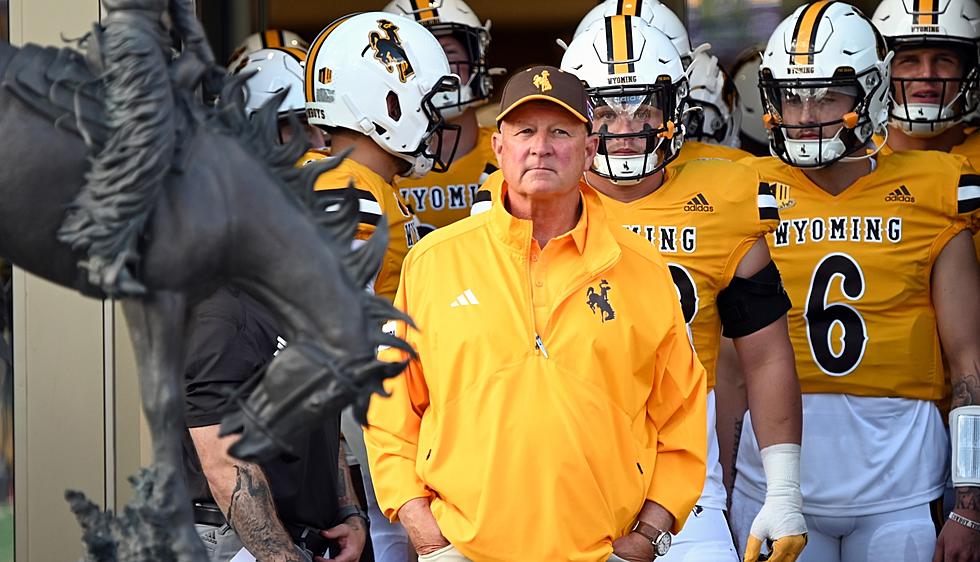 How Do the Cowboys Utilize The '24-Hour Rule?'
Wyoming head coach Craig Bohl looks up at the Jumbotron before emerging from the home locker room./ DJ Johnson photo
LARAMIE -- Every Saturday -- win or lose -- you hear Wyoming players and coaches talking about the "24-hour rule."
That means a full day to celebrate or sulk. Monday, it's back to work, full focus on the upcoming opponent.
It's a nice idea, but it doesn't always go as planned.
Middle linebacker Easton Gibbs admitted as much after a 30-0 loss to Fresno State in the 2022 regular-season finale.
Why?
A week prior, a still-hard-to-believe turn of events cost the Cowboys a victory against Boise State with the lead in the Mountain Division on the line.
With the Broncos clinging to a 20-17 lead looking to run out the clock with just around a minute left in regulation, George Holani -- a running back who has lost just two fumbles in 561 career carries -- was stripped. Defensive end DeVonne Harris snagged the ball, rumbling to the visitor's 21-yard line.
Instead of playing for the tie, Craig Bohl and Co. went for the win.
It didn't happen.
Jayden Clemons, making his first-career start under center in place of an injured Andrew Peasley, heaved a pass into double coverage in the end zone. JL Skinner, for the second consecutive snap, picked off Clemons.
Game over. Championship aspirations, toast.
"I mean, you guys all saw that game last week," Gibbs said after the loss to the Bulldogs last November. "It was pretty detrimental. It was a fast swing of emotions, really quick, in a short period of time. So, it was definitely tough ... It definitely took a little bit more than 24 hours, I'd say. At least for me."
You're not alone, Easton.
Winning, on the other hand, can lead to Sunday Fun-day.
Frank Crum said that was the case after Wyoming stunned visiting Texas Tech 35-33 in the season opener. That one took two overtimes, but that just meant the party was delayed.
The Laramie native didn't get into specifics, obviously, but added that for a sixth-year guy, most Sunday's are reserved for some R&R.
"Honestly, for me, I usually go home to watch whatever football games are on with my family. There's usually a meal there," the 6-foot-8, 315-pound left tackle said with a smile. "It's lowkey, I just hang out with the fam and my fiancé. There's usually someone in town that came to watch me, so I catch up with relatives or family friends. But, yeah, honestly, being a vet, I have a pretty chill 24-hour rule."
MORE UW FOOTBALL NEWS VIA 7220SPORTS:
* Pokes, No. 24 Bulldogs grab national spotlight Saturday night
* Wyoming Cowboys in the NFL: Week 4
* UW players, coaches fully aware of scoreless skid vs. 'Dogs
* Wyoming safety named league's Defensive Player of the Week
* Wyoming Football: News and notes ahead of Fresno State
* Behind the numbers: Wyoming vs. New Mexico
* Three stars of the game: Pokes vs. Lobos
* Turning point, unsung hero and what's next for UW
* Rants and Raves: New Mexico Edition
* Big plays propel Pokes past New Mexico, 35-26
* Tuck's Takes: QB controversy in Laramie? Hardly
Tyce Westland said the recliner calls his name. The 6-foot-5, 220-pound Nebraska product typically flips to the Chiefs game, he said.
"I went out to eat with my family, and when they left, I just stayed at the apartment, watched some football games and chilled, " he said. "I just like to relax and get off my feet."
Same can be said for Westland's running mate in the defensive end room, Kevin Sjogren. In Saturday's 35-26 victory over New Mexico, those two were forced into action early and often thanks to injuries to Sabastian Harsh and Braden Siders.
Still, Sjogren said, the Sunday routine doesn't change.
"I like to stay away from football a little bit so I can get my mind right for the next week and I'm just out there pushing myself," the 6-foot-5, 240-pound Colorado native said. "I just try to relax a little bit."
Safety Andrew Johnson has his pilot's license. Jordan Bertagnole is a newly wed. So is Peasley. He also has a two-month-old son. Tyrecus Davis is also a father. Wyett Ekeler is likely watching tuning in to watch his older brother, Austin Ekeler, the Los Angeles Chargers' starting running back. Carson York's brother, Cade York, is a kicker for the Titans.
Bohl said he and his staff don't follow the 24-hour rule.
They can't.
Sunday morning, or postgame, in most cases, it's back to the drawing board, breaking down the film of what just transpired before taking a look ahead.
Miserable.
That's how Wyoming's 10th-year head coach describes the day after a loss. He often jokes that he sleeps like a baby, meaning he's up crying about every other hour. A victory, on the other hand ...
"The only time you really relax is after the game, and it takes a while to slow down," Bohl said. "So, an afternoon game with a win, you know what, I have a fireplace with my wife. I left on out of here and I had a Manhattan and a cigar and a steak.
"So, that was my four hours and then you get up the next morning and you're on to the next one."
Brian Hendricks, Wyoming's first-year defensive end's coach, is jealous.
"He goes home, he starts a fire, he drinks really fine whiskey and he smokes a cigar," he said with a grin. "I go home, I put out fires that my kids start, I give my wife the bottle of whiskey because she's tired of the kids and then I'm smoking Marlboro reds while he's smoking fine cigars.
"So, his 24 hours is different than my 24, but at the end of the day, it's a great problem to have."
University of Wyoming's Top 50 Football Players
The rules are simple: What was the player's impact while in Laramie? That means NFL stats, draft status or any other accolade earned outside of UW is irrelevant when it comes to this list.
This isn't a one-man job. This task called for a panel of experts. Joining 7220's Cody Tucker are Robert Gagliardi, Jared Newland, Ryan Thorburn, and Kevin McKinney.
We all compiled our own list of 50 and let computer averages do the work. Think BCS -- only we hope this catalog is fairer.
Don't agree with a selection? Feel free to sound off on our Twitter:
@7220sports
- #Top50UWFB
Gallery Credit: 7220Sports.com
- University of Wyoming's Top 50 Football Players