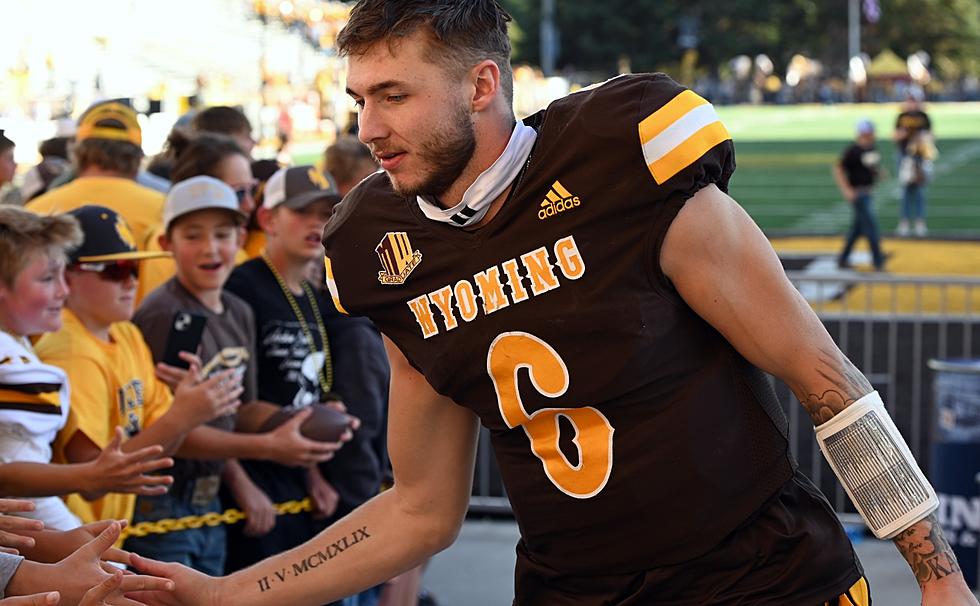 Tuck's Takes: QB Controversy in Laramie? Hardly
Wyoming quarterback Andrew Peasley shakes hands with young fans after the Cowboys knocked off New Mexico 35-26 Saturday inside War Memorial Stadium./ DJ Johnson photo
LARAMIE -- Quarterback controversy?
Hardly.
While the narrative throughout the week centered around whether or not it was time for a change under center in Laramie, the decision makers simply put you on ignore.
Oh, they heard the chatter, but ultimately, your pleas fell on deaf ears.
Rightfully so.
Maybe it's time to put the pitchforks and torches down. In fact, throw those suckers in the deepest, darkest corner of the attic. You won't be needing them anyway.
Andrew Peasley is Wyoming's quarterback, and barring injury, that isn't changing.
It shouldn't.
The senior showed once again Saturday why this story was a non-starter from the jump.
Peasley completed 16 of his 25 throws, including connecting on a perfect 6-for-6 right out of the gate. He distributed those tosses to nine different pass catchers. The last guy to do that now plays in Buffalo, New York.
Peasley finished with 194 yards passing, 66 of which came on an Ayir Asante touchdown. He added another score on a two-yard scamper in the first quarter of Saturday's 35-26 victory over visiting New Mexico.
"I thought Andrew had one of his better games," Wyoming head coach Craig Bohl said. "Not only what you guys saw physically, but just his ability to put us in and out of plays was special."
Wyoming is now 4-0 this season in games Peasley has started. In fact, he's 11-5 overall.
Read those lines again.
"I think, with our offense, obviously last week when you look at our game, we had no flow, we had no rhythm," Peasley said. "So, I think that was the main goal to just kind of come out, start fast, get into a rhythm and get the ball on the perimeter. I think we executed it really well."
He surveyed the field. He made throws in tight windows. He again showed no fear in the run game, tucking the ball seven times for 34 yards. Peasley even dished out some punishment late in the third quarter, lowering his shoulder and blasting Christian Ellis instead of stepping out of bounds.
Smartest decision? Probably not.
That's how Peasley plays the game.
MORE UW FOOTBALL NEWS VIA 7220SPORTS:
* Know Wyoming's foe: New Mexico Lobos
* Buck Coors puts sixth surgery in rearview, keeps fighting
* Wyoming WR Caleb Merritt, YMCA partner for fundraiser
* New Mexico has a new identity on offense ... and it's working
* 'Crook' Brown is making big plays in the Wyoming secondary
* Wyoming football staff punching back in NCAA Transfer Portal
That's also a small part of why his teammates respect him so much.
"He's a special person, a special player and a special father now," said Asante, who finished the day with two grabs for 72 yards. "Never did anyone in our locker room doubt this guy. You guys saw that first game. That was my first time seeing Andrew play in person. Just to see that toughness, and again, just that relentless effort and the ability to throw his body on the line as a quarterback. You know, the stigma of quarterbacks is not being able to take hits, and that's just not who Andrew is. He's just a fearless leader, somebody you could always talk to, and just, you know, a person that people can get behind."
"I knew Peas was going to come back," said running back Harrison Waylee, who eclipsed the 100-yard mark on the ground for the third straight game with 191 yards and a touchdown on just 18 carries. "That's my boy. We talked about it all week, just focus and go out there and do what we do best ... I knew he was going to do that."
Admittedly, Peasley's ailing right shoulder wasn't 100% in a dismal showing a week ago inside this building against a scrappy Appalachian State team.
The numbers bear that out.
He connected on just 5-of-15 passes for 31 yards and an interception. That was returned for a touchdown early in the fourth quarter. We thought, at the time, that was the death blow.
It wasn't.
The Cowboys pulled off an improbable 22-19 victory thanks to a blocked field goal that was returned for a touchdown late in the fourth quarter.
While you were busy mashing the panic button, Peasley was in the locker room celebrating with his teammates. He even led a rendition of Happy Birthday for Wrook Brown, one of the heroes of the night, who just turned 21. Peasley even gave him a game ball.
He was the first person to point the finger at himself. Numerous times during his postgame press conference he uttered the words "I need to be better."
Peasley didn't blame the AC sprain for his poor performance. He didn't throw his wide receivers and tight ends under the bus, either. He could have. On all accounts.
Leaders don't do that.
"We all knew he would," linebacker Easton Gibbs said, referring to Peasley's redeeming performance against the Lobos. "He's a competitor, that's just who he is. It's funny how down people get on someone after one game. So, I mean, we all knew in the locker room, he's going to bounce back. He's a great leader, a great competitor. So we all knew that was going to happen, but it feels good."
Peasley doesn't have a rocket arm. He doesn't possess break-neck speed. His highlights will rarely wow you. The same can typically be said for his stats. It's the intangibles that make him special.
It's the heart. The grit. The cerebral part of the game. Even the loudest of Peasley's detractors will admit that.
Peasley said the offensive captains called a player's only meeting this week. It lasted about 15 minutes. The question: What kind of offense do we want to be?
The answer: A lot like the one Saturday that rolled up 433 total yards and put 35 points on the scoreboard.
"I'm just thankful that they have trust in me to, you know, have a rough week the week before -- the offense was struggling -- but just to come out and start off with a pass play is a big statement for me ... So, yeah, I'm very thankful that we started out very well. We played good today."
Evan Svoboda is a promising young talent. His time will come. Not now, though.
This is Peasley's team.
There's no QB controversy.
None. Zip. Nada.
Wyoming 35, New Mexico 26
A day with the Bills Mafia