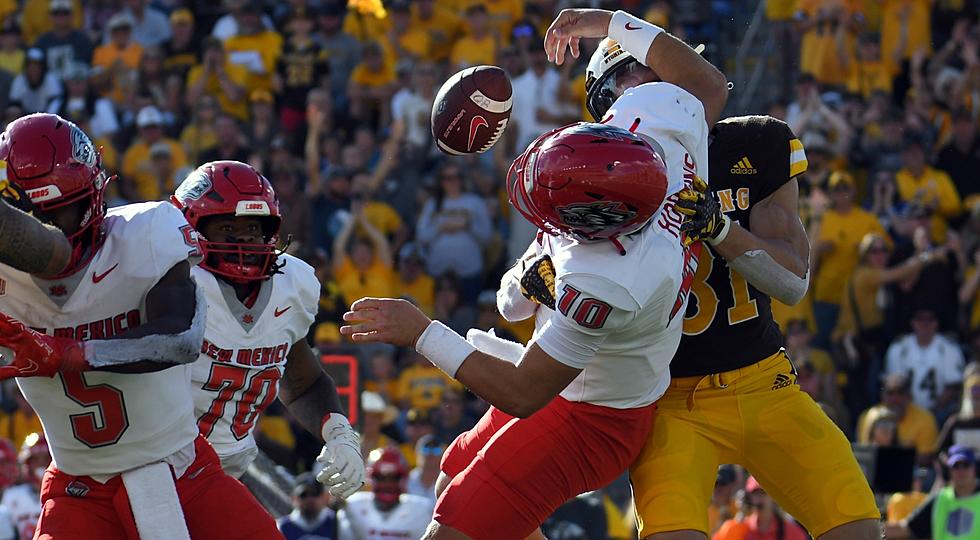 Big Plays Propel Pokes Past New Mexico, 35-26
Wyoming safety Wyett Ekeler levels New Mexico QB Dylan Hopkins on a blitz in the second half./ DJ Johnson photo
* University of Wyoming press release
LARAMIE -- Big plays on offense, defense and special teams fueled the Wyoming Cowboys to their fourth win of the season on Saturday as the Pokes came away with a 35-26 home win over New Mexico on Homecoming.
The win was also the Mountain West opener for the Cowboys and improved UW's season record to 4-1 overall and 1-0 in the Mountain West Conference. New Mexico fell to 2-3 and 0-1.
"Conference play is here, and we knew it was going to be a challenging game," said Wyoming head coach Craig Bohl. "Coach (Danny) Gonzales does a great job. Their team is getting better. There were some explosive plays we made today, which I was really pleased with. I thought Andrew (Peasley) had one of his better games.  His ability to put us in and out of plays was special. Harrison (Waylee) had a couple big runs. Andrew's competency has improved, and we did a good job protecting him today.  Andrew, last week played, but his arm strength wasn't 100 percent. This week his shoulder was 100 percent healed, which is why you saw us run him some and that had an impact on his throws, as well.
"The game had a lot of ebbs and flows, and so we are going to take this win starting off conference play at 1-0. I was really concerned coming into this game. We've always had a hard time matching up with these guys, and that was no different today.
"Thank the Lord for John Hoyland. He's got ice running through his veins."
The Cowboy offense exploded for eight "chunk" plays, including five rushing plays of 10 or more yards and three passing plays of 15 or more yards. UW running back Harrison Waylee led the Pokes in explosive plays with runs of 17, 18, 46 and 66 yards.
His 46-yard dash went for a touchdown.
Cowboy quarterback Andrew Peasley completed three explosive pass plays of 22 yards to tight end Treyton Welch, 25 yards to tight end John Michael Gyllenborg and 66 yards to wide receiver Ayir Asante. The 66-yarder went for a touchdown.
The pass play to Asante started at the Wyoming 34-yard line, Peasley threw a bubble screen behind the line of scrimmage as Asante caught the ball on the far sideline at the Wyoming 30. Asante then cut back across the field evading tacklers along the way and ended up running down the near sideline for the TD.
Peasley added a 15-yard run of his own for Wyoming's other explosive run on the day.
"When (Ayir) Asante cut back, I wasn't crazy about that," said Bohl. "I thought to myself, 'he's cutting back too much, I don't want him doing that,' and then when he broke free I said, "oh yeah, I do want him doing that.' and then he scored the touchdown."
On defense, Wyoming also made its share of big plays, forcing two turnovers.
Cowboy free safety Wyett Ekeler forced a fumble with less than 30 seconds remaining in the first half. New Mexico had driven down to the Wyoming 26-yard line.  On a second and 10 at the 26, Ekeler came free on a safety blitz and sacked UNM quarterback Dylan Hopkins.
As Ekeler made the sack, he knocked the ball loose, picked it up at the Wyoming 37-yard line and returned it to the Wyoming 45 to preserve a 12-9 halftime lead for the Pokes.
On New Mexico's first possession of the third quarter, Cowboy nickel back Wrook Brown intercepted Hopkins at the Wyoming 45-yard line. Brown returned the interception nine yards to the New Mexico 46. That interception set up Waylee's 46-yard TD run on the very next play.
It was Brown's third interception of the season to lead Wyoming in that category.
The big plays for Wyoming began early in the first quarter and started with Wyoming special teams. New Mexico had driven 75 yards in eight plays on their first possession of the game to score on a 17-yard pass from Hopkins to wide receiver Jeremiah Hixon, giving the Lobos a 6-0 lead.
MORE UW FOOTBALL NEWS VIA 7220SPORTS:
* Tuck's Takes: QB controversy in Laramie? Hardly
* Know Wyoming's foe: New Mexico Lobos
* Buck Coors puts sixth surgery in rearview, keeps fighting
* Wyoming WR Caleb Merritt, YMCA partner for fundraiser
* New Mexico has a new identity on offense ... and it's working
* 'Crook' Brown is making big plays in the Wyoming secondary
* Wyoming football staff punching back in NCAA Transfer Portal
But on UNM's extra-point attempt it was deja vu for the Cowboy block team as defensive end DeVonne Harris blocked the kick and UW cornerback Jakorey Hawkins picked up the blocked PAT and returned it the distance for two points to make the score New Mexico 6, Wyoming 2. If that sounds familiar, that Harris-Hawkins combination was the same combo that blocked the field goal a week earlier for the winning touchdown against Appalachian State.
"The early blocked PAT by our guys was pretty critical, because at that time it changed some momentum," said Bohl. "It also changed the complexion of the point differential and every point today was going to be important."
The other big special teams performer on the day for Wyoming was place-kicker John Hoyland.
Hoyland was a perfect 4 for 4 in field goals, making kicks of 26, 34, 38 and 38 yards. He also converted all three of his point-after-touchdown attempts for a perfect day and scored 15 of Wyoming's 35 points. Hoyland tied a career high with four field goals in a single game.
It is the fourth time he has accomplished that in his career, having made four FGs at Nevada in 2020 in his first collegiate game and four against both Tulsa and Northern Colorado in the 2022 season.
Asked what his thought process was on attempting the last field goal with Wyoming holding a six-point lead (32-26) with 11 seconds remaining in the game.
"We calculated time and we also calculated the quality of our kicker," said Bohl. "I think we have the best field-goal kicker in the country, and we've had good snaps and good operations on our field goals all year. John (Hoyland) came in and drilled it and the game was over then."
After trailing 6-2 after New Mexico's opening scoring drive, Wyoming came back to take a 9-6 lead on Peasley's rushing touchdown late in the first quarter. The Lobos would tie the game at 9-9 early in the second quarter, but with 6:38 to go in the first half, Hoyland put Wyoming ahead to stay with the first of his four field goals to give the Cowboys a 12-9 halftime lead.
UW never trailed at any point during the second half.
Waylee recorded his third consecutive 100-yard rushing game as a Cowboy.  He carried the ball 18 times for 191 yards and one touchdown against the Lobos. That followed a 110-yard rushing performance at then No. 4 ranked Texas in his first game as a Cowboy and a 156-yard rushing game versus Appalachian State.
Waylee is averaging 152.3 rushing yards per game through his first three games played for the Cowboys and has scored one rushing touchdown in each of those three games.
Other top performances on the day for the Cowboys included: Peasley completing 16 of 25 passes (64.0 percent) for 194 yards, one passing TD, no interceptions and one rushing touchdown against the Lobos.
He also rushed for 34 yards to give him 228 yards of total offense on Saturday.  Peasley connected with nine different receivers, led by wide receiver Asante, who had two catches for 72 yards, including his 66-yard TD catch and run.
That was the first time a Cowboy QB had connected with nine different receivers since Josh Allen accomplished that vs. New Mexico in 2017.
Defensively, middle linebacker Easton Gibbs' eight tackles were tops for the Cowboy defense. He also broke up two passes and recovered a critical on-side kick attempt by New Mexico late in the game.
Brown added five tackles, 1.0 tackle for loss and one pass break-up to go with his interception. Ekeler had four tackles, 2.0 sacks and one pass break-up to go with his forced fumble and fumble recovery.
Strong safety Isaac White also recorded five tackles, 0.5 tackles for loss and two pass breakups. Linebacker Shae Suiaunoa was the other Cowboy to tally five tackles versus the Lobos.
Wyoming's 4-1 start to the 2023 season marks the third time in the Craig Bohl era that the Cowboys have begun a season 4-1. The other two 4-1 starts for the Cowboys under Bohl's direction came in 2019, on way to an 8-5 final record, and in 2021, on way to a 7-6 overall mark.
Saturday's Wyoming win marked its fourth consecutive home win, including wins vs. Texas Tech, Portland State, Appalachian State and New Mexico this season. 
Up Next
Wyoming will host defending Mountain West Conference Champion Fresno State next Saturday, Oct. 7 in War Memorial Stadium in a 6 p.m., Mountain Time kickoff. That game will be televised on one of the FOX Sports Networks. The announcement of the exact network will come early this coming week.
Fresno State is currently 4-0 entering its 2023 MW opener at home vs. Nevada on Saturday night, Sept. 30 at 8:30 p.m., M.T.
A day with the Bills Mafia