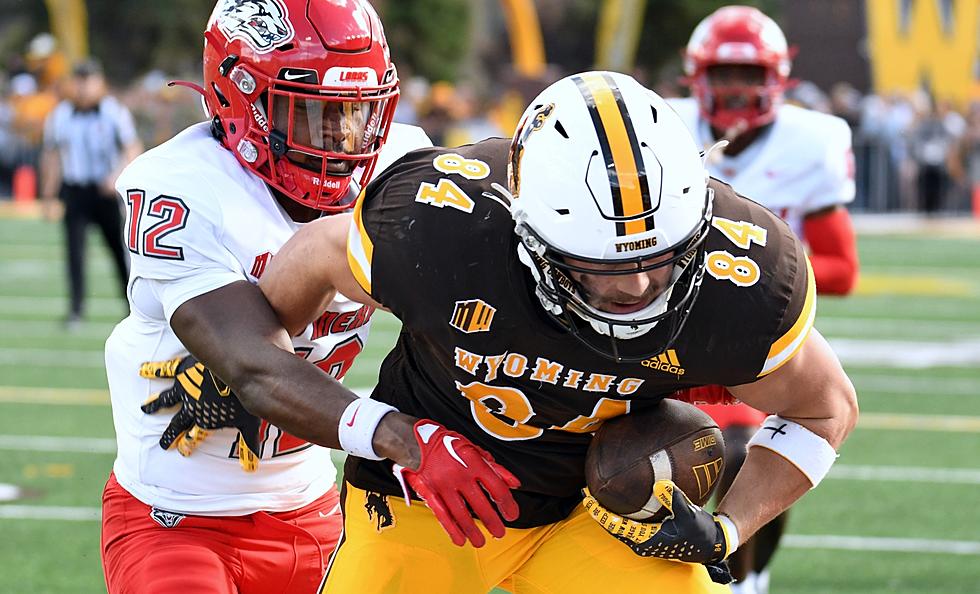 Wyoming Football: News and Notes Ahead of Fresno State
Wyoming tight end John Michael Gyllenborg hauls in a catch during a 35-26 victory over New Mexico last Saturday in Laramie./ DJ Johnson photo
LARAMIE -- Sabastian Harsh went down last Saturday.
Jakorey Hawkins, Caden Barnett, Evan Svoboda and Wyett Ekeler were also shaken up in the 35-26 victory over New Mexico. Defensive end Braden Siders didn't play. Neither did cornerback Tyrecus Davis.
What does the injury report look like heading into the most important game of the season Saturday night in Laramie against No. 24 Fresno State?
"Nothing that's conclusive," Wyoming head coach Craig Bohl said Monday during his weekly press conference in Laramie. " I think everybody that went down will be back. We're waiting a little bit on Sabastian Harsh. He did get an MRI. There wasn't something really concerning, but we wanted to be careful. So, I have not heard the results of that yet, but, yeah, it was a physical game and guys did go down.
"But I think we'll have everybody back this week."
Harsh appeared to clutch his left knee after assisting on a tackle in the first half. The 6-foot-3, 235-pound defensive end suffered a broken left knee cap just four days before the 2022 season opener. The sophomore from Scottsbluff also missed time during fall camp after having a wire removed from the surgically-repaired knee.
With Harsh and Siders on the shelf, Tyce Westland and Kevin Sjogren teamed up with DeVonne Harris off the edge.
MORE UW FOOTBALL NEWS VIA 7220SPORTS:
* Behind the numbers: Wyoming vs. New Mexico
* Three stars of the game: Pokes vs. Lobos
* Turning point, unsung hero and what's next for UW
* Rants and Raves: New Mexico Edition
* Big plays propel Pokes past New Mexico, 35-26
* Tuck's Takes: QB controversy in Laramie? Hardly
* Know Wyoming's foe: New Mexico Lobos
* Buck Coors puts sixth surgery in rearview, keeps fighting
* Wyoming WR Caleb Merritt, YMCA partner for fundraiser
* New Mexico has a new identity on offense ... and it's working
* 'Crook' Brown is making big plays in the Wyoming secondary
* Wyoming football staff punching back in NCAA Transfer Portal
Bohl said Hawkins, a senior cornerback, was dealing with cramping against the Lobos. Siders is reportedly dealing with a hamstring issue and Davis has an unspecified leg injury. The setbacks to Svoboda, Ekeler and Barnett are unknown.
Here are some other news and notes from Bohl's meeting with the press:
* Wyoming rolled up 433 yards of total offense against New Mexico, by far the best outing of the season on that side of the ball. Only twice has that unit eclipsed the 300-yard mark this fall, once against Texas Tech and also versus Portland State. "I think (That was) the best offensive performance we've had this year," Bohl said. "And typically, we've had a hard time with that defense. So, our offensive coaches came up with a great game plan."
* Part of that plan was getting Andrew Peasley involved and in rhythm early, something the senior quarterback said was a challenge a week prior against App State when he completed just 5-of-15 throws for 31 yards and an interception. Six of the first seven snaps were passes. Peasley completed his first seven throws of the afternoon en route to finishing his afternoon 16-of-25 for 194 yards and a touchdown. He also rushed for another score.
* "Bloody Tuesday." That's what Bohl calls practices on the second day of every game week. Left tackle Frank Crum confirmed: it's a street fight. Especially in the trenches. Crum said Bohl was particularly vocal last Tuesday, calling numerous inside run plays. It must've worked. The Cowboys rushed for 239 yards on 31 carries. That's an average of 7.7 yards per attempt. "That was a hard-nosed practice and that, I think, paid off, particularly with our offensive linemen up front," Bohl said. "You know, we were able to be effective in the running game."
* Harrison Waylee again rushed for more than 100 yards, gutting the visiting Lobos to the tune of 191 yards. The junior running back broke a run of 46-yards for a touchdown and also added a 66-yard jaunt in the fourth.
* Wyett Ekeler was named the Mountain West's Defensive Player of the Week after registering four tackles, including two sacks, a forced fumble and a recovery in the win. The junior safety from Windsor, Colo., also broke up a pass. "That was his best game," Bohl said. "He played really fast. He was really disruptive."
* Bohl busted out a couple of his all-time quotes when discussing a 30-0 loss to Fresno State in last November's regular-season finale. "We got taken to the woodshed" and "We got tossed out of the saloon." Couldn't have said it better myself. Wyoming rolled up just 191 yards of total offense, turned the ball over twice and committed a season-high seven penalties in the latest blanking courtesy of the Bulldogs.
* Speaking of which, Wyoming hasn't scored a single point against Fresno State over the last 11 quarters, dating back to 2018. The Bulldogs have won four straight in the series and have outscored the Cowboys, 87-10. "They had some players that are no longer there and they restocked," Bohl said. "They were able to pressure. They do play gap-control stuff, but they have pressure. They'll operate out of three down, sometimes four down. Their back end is good. It's going to challenge us."
* Surely Fresno State would take a step back this year, right? This team lost its starting quarterback Jake Haener, running back Jordan Mims and top-two receivers Jalen Moreno-Cropper and Nikko Remigio from last year's conference championship squad. They also lost David Perales and his 11.5 sacks. That, obviously, hasn't happened. "You know, that's what I was hoping," Bohl joked. "But, once again, I just think, a lot of that is a compliment to Jeff Tedford. I mean, he's a well-respected head football coach that has a lot of connections all over the country."
* The Pokes (4-1, 1-0) and 'Dogs (5-0, 1-0) will appear on national television this Saturday night. Not FS1, not FS2, but FOX -- the real one. The network chose this matchup over TCU, a team that was in the national championship game a season ago, and Iowa State. Move over, Big XII, the Mountain West is taking center stage. "This is going to be on a much larger scale and the viewership is going to go way up," Bohl said. "And that's great. It's great for our school, the exposure that the University of Wyoming is going to get and it's great for our fan base." Kickoff is slated for 6 p.m. Mountain Time.
* Have you downloaded our free app yet? Stay up to date on the latest Pokes news right HERE. Receive our daily newsletter right in your inbox by clicking HERE.
LOOK: Pokes' unis through the years