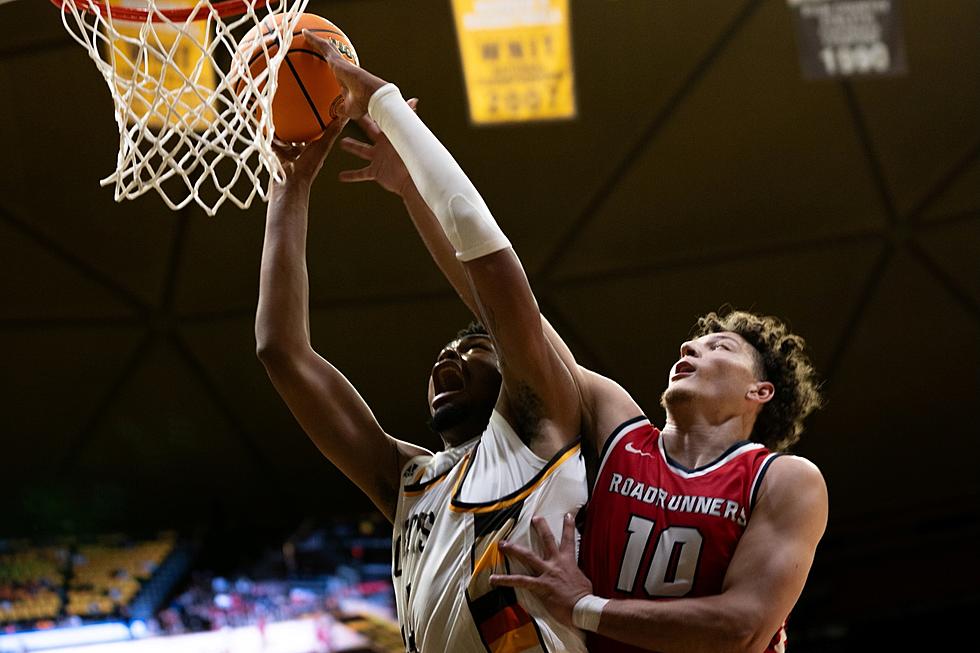 Tuck's Take: Play Hard, Compete, Repeat
Wyoming forward Caden Powell powers his way toward the bask in an exhibition matchup against Metro State./ UW courtesy photo
LARAMIE -- The million-dollar question: How will this Wyoming basketball team look this season?
The answer: No clue.
Anyone who says they do know is either a liar or their paycheck comes directly from university.
This roster features 11 new faces. There are two new assistant coaches, too. The Mountain West Conference features solid programs like Boise State, New Mexico, Nevada and Colorado State. Not to mention San Diego State, a team that marched all the way to the national championship game last spring.
Expectations are overrated anyway, right?
Remember this time a year ago?
The Cowboys were just picked to finish second in the league behind only the Aztecs. They even received a handful of first-place votes on the heels of a surprise run to the NCAA Tournament. Graham Ike was the newly crowned preseason player of the year and this roster returned nearly intact, aside from Drake Jeffries, and even added a trio of Pac-12 transfers.
Jeff Linder's team landed on a few of those overblown lists the so-called experts like to throw against the wall every November. One even listed Wyoming as a dark horse to make a Final Four run.
Remember how excited you were?
That was tempered a bit when news broke that Ike would be sidelined a minimum of "6-to-8 weeks" with an undisclosed lower-body injury.
The home loss to Southeastern Louisiana in the third game of the season was concerning. So were the four consecutive setbacks that followed a 78-71 victory over Howard in the opening game of the US Virgin Island Paradise Jam.
The injuries began to mount. It also became crystal clear who was in the doghouse.
Lineups, those were different nearly every night. At first because of matchups. Eventually, and unfortunately, it was out of necessity.
Remember how good the non-conference schedule was?
Neutral site meetings with Santa Clara, Dayton and Saint Mary's were the highlights. Grand Canyon was also making a return visit to Laramie. Those were all meant to be résumé builders. They all ended up being losses, many of them the blowout variety.
It was clear this team wasn't the same without its big man. Patience was wearing thin as the medical timeline came and went.
Still no Ike.
The Cowboys would drop their first six conference games. Some were close. Others, downright ugly. Play on both sides of the court, wildly inconsistent. Linder's frustrations were on full display in nearly every press conference. The third-year head coach questioned fan loyalty early on. That quickly shifted to Murphy's Law.
Need more examples?
A flight snafu forced the team to drive from Phoenix to Laramie after that lopsided loss to the Gaels. That journey took two full days. Then there was the time the bus went off the side of the road on Owl Canyon. A major snow storm hit the region on the night the Cowboys were coming home from Air Force. It took seven hours to get a tow truck and every passenger had to move to the same side of the bus so it didn't tip over.
A one-point Border War victory over CSU in late January served as the first real feel-good moment. A blowout win over Fresno State 10 nights later was quickly overshadowed by the news that Ike would redshirt and officially miss the entire season. The team responded with a 20-point road loss to San Jose State. Then came the oddly timed mid-week departure of Max Agbonkpolo, Ethan Anderson and Jake Kyman, the three newcomers who were supposed to help lead this team to a deep run in March.
"I will say it was the hardest year of basketball in my life," UW guard Brendan Wenzel said. "Just a lot of things you couldn't control. There were a lot of bad days, a lot of just like, why am I still doing this? It just seemed like everything was going wrong. It was hard to get the motivation to work hard. It just felt like the year was already down the drain."
MORE UW HOOPS NEWS VIA 7220SPORTS:
* Cowboys welcome Northern New Mexico in opener
* Pokes pull away late in 79-67 exhibition win
* Injury bug takes another bite out of UW hoops
* Wyoming's Jeff Linder: This team could surprise some people' 
* Jeff Linder adds forward Jonas Sirtautas to roster
* Three-star prep school point guard inks with Cowboys
* Wyoming signs 6-9 power forward from Kansas City
* Sharp-shooting Sam Griffin Signs with Pokes
* Cowboys add D2 All-American guard Akuel Kot
* Linder, Cowboys basketball adds two more signees to 2023-24 class
* Wyoming basketball inks guard from famed DME Academy
* Wyoming receives commitment from NAIA Player of the Year
* Wyoming lands first commit of 2023-24 class
Rock Bottom would come soon after when Linder was forced to miss games while he tended to his family and his ailing father, Bruce Linder. He eventually died while the Cowboys were playing in the Mountain West Tournament.
Noah Reynolds hit the NCAA Transfer Portal first. Nate Barnhart followed. So did Jeremiah Oden, Xavier DuSell, Nathaniel Talich and, finally, Ike, who turns out was dealing with a stress reaction in his foot.
"We were all really excited and there was a lot of optimism," UW assistant Ken DeWeese said. "But I've never had to recover from a season like that. I've never had anything close to that. I don't even know if I've been on a losing team in my career, even as a player, that I can recall, to the extent that it was last year. I mean, I've never dealt with it before. So, for me personally, it was challenging. It was challenging for all of us."
Told you expectations are overvalued.
We don't know much about this new cast of characters.
Linder says he has scorers.
"We've got some good players," he said. "We've got some really good offensive players. I'd much rather figure out how to get stops as opposed to trying to figure out how to score."
Mason Walters netted an eye-popping 2,662 points during his four-year career at the University of Jamestown (N.D.). He also pulled down 1,239 rebounds. Those are both school records. He was last season's NAIA Player of the Year.
Will that translate to the Division-I level?
We'll have to wait and see. A thumb injury on his non-shooting hand has already sidelined the 6-foot-9 forward for at least the entire non-conference slate. Wyoming will also be without Kenny Foster. The senior suffered a torn Achilles tendon and will miss the entire season.
Sam Griffin has proven it at this level. He was Tulsa's leading scorer in 2022-23, averaging 15.2 points per game. The Cowboys new point guard has hit 244 career triples in just 115 games. His new running mate on the perimeter, Akuel Kot, can also put the ball in the basket. A Division-II All-American a season ago, the 6-foot-2 shooting guard averaged 23.4 points per night at Fort Lewis College (Colo.).
Kot scored 20 or more points in 20 games. Eight times he eclipsed the 30-point mark. He even netted 45 in a game last November.
True freshman Cam Manyawu is expected to carry the load as this team awaits the return of Walters. The 6-foot-9 Kansas City product was listed as the 53rd best power forward prospect in the nation. Caden Powell, one of just four returners on this squad from last year, will also look to build on a freshman season that saw the 6-foot-10 Texas native shoot 46% from the field.
Wenzel is also back. The senior guard, who made 21 starts, averaged nearly eight points per game last season. He hit 43 3-pointers, including four or more in five games. He netted 20 points in wins over Colorado Christian and Louisiana Tech.
"I like the way we've been progressing over the last couple of months," Linder said. "You know, the group really likes each other, they like playing for one another, they like practicing. And so with that, you're obviously going to get better."
Tonight we will get our first legit look at this revamped roster. That alone breeds excitement. Projections are not ideal. The league's media picked this team to finish 10th out of 11 teams.
Fair.
Also, irrelevant.
The Cowboys simply need to be competitive. If this group does the right things and plays hard, the fans will respond. Maybe not with butts in the seats -- at first -- but a love affair could blossom, especially if they can be aggressive and make things interesting.
This is a unique locker room that could make for a compelling campaign.
You've got guys with one more collegiate season to prove themselves. I'm sure Walters and Kot want to show they can also be dominant at this level. Same goes for junior guard Kobe Newton. The youth is intriguing. Nigle Cook, Kael Combs, Jacob Theodosiou and Manyawu should have plenty of opportunities to learn on the fly. Can 7-foot Nebraska transfer Oleg Kojenets reinvent himself in Laramie?
Can Linder revive his program and prove the doubters wrong? You know he isn't short on motivation.
Those are the fun storylines.
"There's just a lot of question marks," DeWeese added. "I don't blame people for not putting much stock in us early, but I do think that we have enough pieces here to surprise people."
Let's hope so.
Winning is the ultimate goal, but seeing this group fight for every inch would also be a welcome change.
The journey tips off against Northern New Mexico College at 6:30 p.m.
"I like the way we've been trending," Linder said. "The group that we have, you know, we have a chance."
UW: University of Wyoming Cowboys' Greatest Games From the First Decade of the 2000's