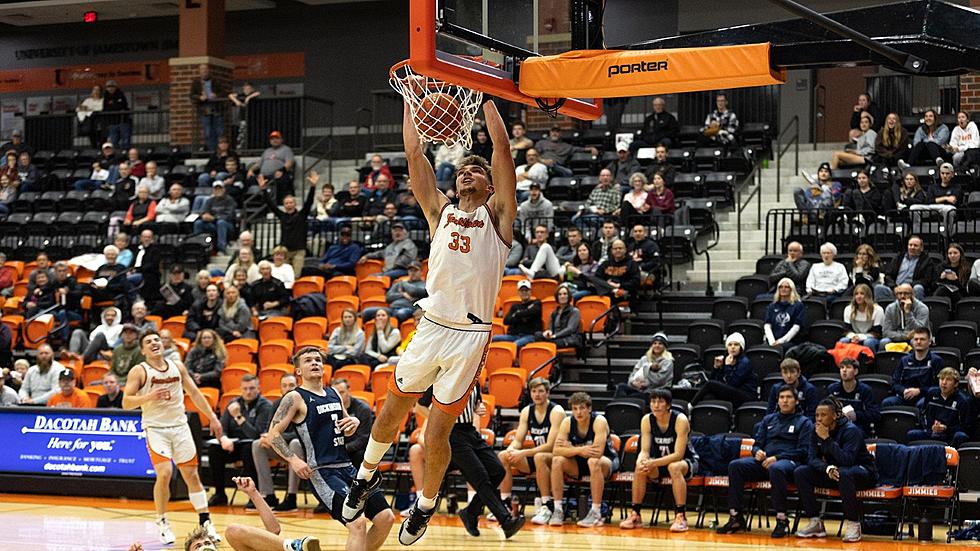 Injury Bug Takes Another Bite Out of Cowboys Hoops
Mason Walters comes to UW after spending the last four seasons at the University of Jamestown./ University of Jamestown courtesy photo
LARAMIE -- Jeff Linder said the dawn of a new season, along with a renovated roster, has him invigorated.
Just not at the moment.
Wyoming's fourth-year head coach was late to the team's annual media day Thursday in Laramie. He spent the last few days recruiting in the Toronto area. One wee-hour wake-up call and a delayed flight later, optimism on this day was put on the backburner.
A phone call Linder received shortly after landing at Denver International Airport made him wish he would've just hit the snooze button.
Just weeks after hearing the news that senior guard Kenny Foster would be lost for the season with a ruptured Achilles tendon, more injury news came down the pike. Mason Walters, last year's NAIA National Player of the Year, will miss the Cowboys' non-conference slate -- 10-to-12 weeks -- after suffering a freak thumb injury on his non-shooting hand last Tuesday in practice.
"You know, that's a big blow," Linder said of Walters, who had 2,662 career points and 1,239 boards during a four-year career at the University of Jamestown (N.D.). "You know, his presence -- the ability to play big -- he's a really good player.
"... He just kind of tried to put his hand on a guy to go get around a guy on a rebound and it just caught and pulled back. He's a tough kid, so when he went down, you're like, you knew it was something."
READ ABOUT THE NEW GUYS HERE:
* Jeff Linder adds forward Jonas Sirtautas to roster
* Three-star prep school point guard inks with Cowboys
* Wyoming signs 6-9 power forward from Kansas City
* Sharp-shooting Sam Griffin Signs with Pokes
* Cowboys add D2 All-American guard Akuel Kot
* Linder, Cowboys basketball adds two more signees to 2023-24 class
* Wyoming basketball inks guard from famed DME Academy
* Wyoming receives commitment from NAIA Player of the Year
* Wyoming lands first commit of 2023-24 class
* PODCAST: Talking with Tom Burman
* Ken DeWeese named associate head coach of Wyoming basketball
* Bryston Williams joining Wyoming basketball staff
* Nick Whitmore added to Wyoming coaching staff
To make matters even worse, the versatile 6-foot-9, 221-pound senior was expected to play a major role at the forward spot this fall, especially with non-league tilts on the road against Texas and old rival BYU.
Linder said 6-foot-9 true freshman Cam Manyawu could fill in for Walters early on. The Kansas City product helped lead Staley High School to a state title last season. The three-star recruit, who was also dubbed the ninth-best prospect in the state of Missouri, also received interest from Indiana State, South Dakota and Oral Roberts, among others.
Walters, a three-time All-American, was the second-leading scorer in the nation during the 2022-23 campaign, averaging 26.6 points per game. He shot nearly 64% from the floor and also pulled down 9.4 rebounds a night. He netted 904 points, which led the NAIA.
The big man shot better than 37% from beyond the arc, making 114 triples during his career at Jamestown, which is also his hometown.
"He's a guy that, in my opinion, he's a guy that will play professional basketball," Linder said. "He's a guy who would be an all-league guy. I mean, I've been doing this a long time and I've seen different pros at different levels, He's a guy that I suspect, you know, leaving here as a rookie overseas to be a mid-level guy in a good league. I mean, he has the size and he has the strength that a lot of guys don't have.
"... He just doesn't make mistakes. I mean, he's just a super, super smart player."
Brenden Wenzel, a senior guard, also suffered a concussion last week and has been limited. Sophomore forward Caden Powell injured his tailbone but has been practicing.
Wyoming will take part in a scrimmage this weekend before hosting Metro State next Friday night inside the Arena-Auditorium. Tipoff is set for 6:30 p.m. Linder's Pokes will open the regular season at home Nov. 7 against Northern New Mexico College.
UW: University of Wyoming Cowboys' Greatest Games From the First Decade of the 2000's