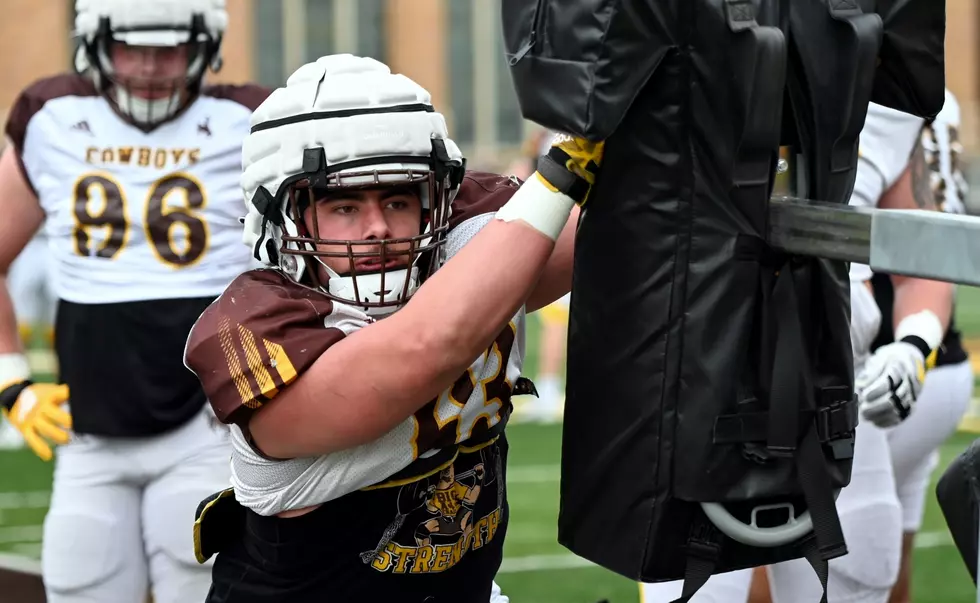 5 players we're looking forward to watching at Wyoming's spring game
Defensive tackle Ben Florentine hammers a blocking sled during a drill last Tuesday in Laramie./ DJ Johnson photo
LARAMIE -- Last spring, nearly every position on the field was spoken for. In most cases, even the backups were predetermined.
That's not the case this April. To say the least.
Returning experience is at a premium. This version of Wyoming football features just three seniors. The entire defense returned in 2021. A year later, just two -- Cole Godbout and Easton Gibbs.
The other side of the ball has just four projected starters back in the fold. That's Parker Christensen, Treyton Welch, Eric Abojei and Frank Crum.
Storylines have been endless since 13 players entered the NCAA Transfer Portal following the Cowboys' Potato Bowl victory over Kent State. UW head coach Craig Bohl, notoriously not a fan of that new element of the college football landscape, was forced to do a bit of offseason shopping himself.
MORE UW FOOTBALL COVERAGE:
* Wyoming's Chad Muma is officially on the clock
* Are you ready for some football?
* Pokes Practice Report: White and Gold game?
* Wyoming's Gavin Beerup now in at ... wide receiver?
The program posted a "help wanted" graphic on social media in search of its next quarterback. Two took the bait -- Utah State transfer Andrew Peasley and former Snow College QB Evan Svoboda.
It didn't stop there.
Bohl and Co. snagged two experienced Power-5 cornerbacks out of the portal. They added a safety, too.
Over the last four weeks, this staff has mentioned a number of unknowns who will be key to success in 2022. There will be plenty of players to keep an eye on Saturday when the team takes part in the annual Brown and Gold Spring game.
Here's a few we are monitoring:
DQ James
A name that has come up time and time again this spring is DQ James.
The 5-foot-7, 172-pound running back has become a sort of legend on the practice fields in Laramie. Former defensive end Garrett Crall said the Texas speedster has "broken ankles" all over the field. James got him. He also got Chad Muma, Esaias Gandy, Gibbs and plenty of others.
In last Saturday's scrimmage, despite battling a stomach illness, Bohl said James was up to his old tricks.
James, originally a Hawaii commit, should get plenty of opportunities tomorrow with projected starter Titus Swen set to receive limited -- if any -- reps in the spring game. Though James is one of the smallest players on this roster, UW running backs coach Gordie Haug said they aren't afraid to use him in any situation on the field.
In other words, James isn't a novelty. He could be a big part of the plans in 2022.
Evan Svoboda
You will probably have to do a double take when you see this guy trot onto the field.
Not only does he play quarterback and wear the infamous No. 17 across his chest, it's scary how much Evan Svoboda resembles Josh Allen, physically. He stands 6-foot-5 and weighs 240. He's strong and has the arm to match.
Allen strong? Let's not get ahead of ourselves.
Bohl said the Mesa, Ariz., product was also impressive in last Saturday's 77-play scrimmage inside War Memorial Stadium. He liked his poise, decision making and release.
With three seasons of eligibility remaining, it will be interesting to see what steps Svoboda takes this offseason. His first dress rehearsal -- in front of you -- should be a nice gauge.
Svoboda certainly looks the part.
Sabastian Harsh
No one has been mentioned as many times this spring as defensive end Sabastian Harsh.
Bohl likes his get off. He thinks the Scottsbluff, Neb., native could be the Cowboys' answer in the pass rush, a position group that took a massive hit due to graduation and the transfer portal.
Harsh was a standout on special teams last fall. Now, the 6-foot-3, 237-pound sophomore will be tasked with making life miserable for opposing signal callers. Bohl said this unit has been solid all the way around. Guys like Oluwaseyi Omotosho, Braden Siders, DeVonne Harris, and others, are starting to emerge.
Harsh won't be taking down any QB's Saturday. That, of course, isn't allowed in the spring game. But it will be interesting to see how many times the whistle blows with him in the grill of the man under center.
If what Harsh has done this spring translates to the field this fall, what was once perceived as a weakness on this team could become a strength -- in a hurry.
Wyatt Wieland
Hard to believe Wyatt Wieland has been on campus since 2018.
Throw a redshirt campaign and a worldwide pandemic in the mix, and the Colorado Springs product is still just a junior.
The wide receiver spot in Laramie is filled with plenty of inexperience and unknowns. Isaiah Neyor took his 44 catches, 878 yards and 12 receiving touchdowns to the University of Texas this offseason via the transfer portal. Ayden Eberhardt, one of the program's more reliable pass catchers over the last handful of years, graduated.
Bohl said he has seen improvement from this group as the spring has gone on. Joshua Cobbs has earned most of the headlines. Rightfully so. The sophomore from San Antonio hauled in 25 balls for 245 yards and a touchdown last season.
That's by far the most returning production.
Wieland finally got the monkey off his back last November, snagging a key third-down pass in an eventual loss at Boise State. He added three more catches and rolled up 60 yards to cap the season.
Sure, those numbers don't jump off the page, but coaches have been talking up Wieland all camp. They like his sure-handed abilities. He's sneaky fast, too.
Cobbs is expected to be the leader of the pack, but to have another outlet on the outside will be critical. Neyor opened up the field for Cobbs in 2021. Maybe Cobbs can do the same for Wieland now?
Cam Stone
You probably remember Cam Stone because of his 99-yard -- untouched -- kickoff return for a touchdown last November in a surprising upset of eventual Mountain West champion, Utah State.
What you probably didn't know is he is the newly crowned leader of the cornerbacks room. Yes, even over Jakorey Hawkins and Daron Harrell, the transfers from Ole Miss and Wisconsin, respectably.
Benny Boyd, the Cowboys' cornerbacks coach, bluntly stated this spring that Stone is leading the way to filling two vacant spots left behind by CJ Coldon and Azizi Hearn, both of which entered the portal this winter.
Stone, a 5-foot-10, 188-pound sophomore, finished the 2021 campaign with just eight tackles in a limited role. Expect that number to raise drastically.
Media and fans aren't allowed to watch practice -- coach's rule -- but Stone has been nice enough to put small snippets of practice video on social media. Looks like he's been busy picking off QB's this spring.
That's a good sign for the Cowpokes.
Other players we're keeping an eye on:
Quarterback - Andrew Peasley - No. 6
Strong safety - Wyett Ekeler - No. 31
Running back - Jospeh Braasch - No. 22
Linebacker - Sam Scott - No. 32
Linebacker - Connor Shay - No. 33
Linebacker - Cole DeMarzo - No. 25
Defensive end - Oluwaseyi Omotosho - No. 44
Offensive lineman - Jack Walsh - No. 79
Offensive lineman - Nofoafia Tulafono - No. 77
Defensive lineman - Caleb Robinson - No. 95
Chad Muma's Wyoming career highlights
Highlights from Chad Muma's Wyoming football career, Chad Muma Wyoming football