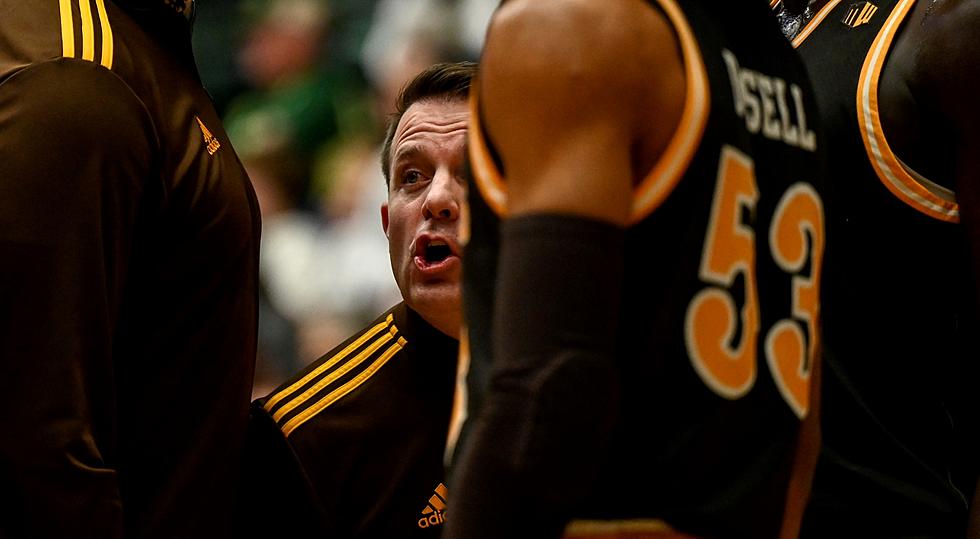 COLUMN: When it Comes to Transfer Turmoil Truth is Often Revealed
FORT COLLINS, CO - FEBRUARY 23: Head coach Jeff Linder of the Wyoming Cowboys works against the Colorado State Rams during the first half at Moby Arena on Wednesday, February 23, 2022. (Photo by AAron Ontiveroz/MediaNews Group/The Denver Post via Getty Images)
LARAMIE -- Jeff Linder is a demanding head coach.
He'll be the first to tell you that. In fact, it's a source of pride. He even doubled down late in the season, offering up this unprompted rant about his expectations.
He doesn't pull any punches.
"I'm a truth teller," he said. "If you don't like hearing the truth, don't come play for me. You know what, there's plenty of chatter out there and there's plenty of B.S. out there, but when I look in the mirror, I know what my character is and I know how I coach.
"I'm not for everyone."
Apparently not.
The minute news broke in early February that Max Agbonkpolo, Ethan Anderson and Jake Kyman bolted, multiple sources in California crooned the same tune -- Linder is mean. I was told Wyoming's third-year head coach blamed these players for certain losses and on more than a handful of occasions told them, in no uncertain terms, to pack their bags and hit the road.
They called his bluff.
Linder didn't flinch, instead consistently praising the remaining players and their loyalty to the program.
Now, we don't exactly know why Noah Reynolds, Nate Barnhart and Jeremiah Oden entered the NCAA Transfer Portal this week, and unless one of them squeals, we likely never will. That's how this works.
What we do know is, if true, we have seen this exact scenario play out right inside the doors of the High Altitude Performance Center.
Craig Bohl was mean.
That's one of the main reasons 15 players announced they were leaving the football program at the conclusion of the 2021 campaign.
When asked, Bohl snarled at the idea he was taking things too far. Did he attempt to change any of the transfers' minds on their way out the door? That was met with a hard "no." He even promptly tossed a pair of quarterbacks -- Sean Chambers and Levi Williams -- directly under the bus, saying, "I tell you what, we wanted to throw the ball more but it's hard when you go out there and watch practice and see a hitch route get thrown in the dirt. So, you know, all this clamoring -- 'coach Bohl is just going to do three yards and a cloud of dust ... ' That's a misstep. We want to throw the ball, I'd just like to have some quarterbacks that can throw the ball."
Many of those departing players, off the record, listed a lack of a relationship with Bohl as one of the reasons they were looking for greener pastures, which many of them found, landing at places like USC, Oklahoma, UCLA, Northwestern and Texas, among other major programs around the country.
MORE UW HOOPS NEWS VIA 7220 SPORTS:
* Sundance Wicks named next head coach at Wisconsin-Green Bay
* Jeremiah Oden third Cowboy to enter transfer portal in two days
* Wyoming big man Nate Barnhart enters portal
* Wyoming's Noah Reynolds enters NCAA Transfer Portal
* Wyoming mourns the loss of Jeff Linder's father
* Will Graham Ike return to Laramie next season?
Insert "Cowboy Tough," "Ride for the Brand," "Cowboy Up" and any other T-shirt slogan here.
We all want loyalty.
All 8-year-old girls want a pony, too.
Linder nailed it when he called Hunter Maldonado and Hunter Thompson a "dying breed." They are. We will likely never again see a player, especially of Maldonado's caliber, stay put for four or five years, let alone six.
That isn't only reality in the age of the transfer portal and NIL, that's now a part of our instant-gratification, I-want-it-now society, as a whole.
Being a jerk on top of all that is simply a recipe for disaster.
No matter how much you dislike it, players now possess the power. The days of grabbing facemasks, cursing guys out and threatening scholarships are long gone.
Learn to live with it because it's not going anywhere anytime soon.
To Bohl's credit, he heeded the warning. The 64-year-old knew the jig was up.
"The first place you look at is yourself to see where you can improve," Bohl said back in March of 2022. "One of the things that I felt like I needed to get better on was connecting more with our players. I needed to get more engaged and let players know where they stood, where we are going. Not so much recruit all the time, but I think people want feedback, even if it's negative feedback. They want to know that they matter and I think that we can do a little bit better."
After speaking with numerous football players last fall, Bohl did indeed put his money where his mouth is.
He's still tough. He's still demanding. But the Cowboys' head man was striking up conversations, sitting with his team at the lunch table and even joking around. During games, no less.
Is that too much to ask?
I think it's safe to say that translated to success on the field, too. Wyoming, featuring the third-youngest roster in the FBS, won seven games and once again appeared in the postseason.
Bohl, uncharacteristically, shed tears at multiple press conferences last fall. That emotion typically followed an impassioned speech about the work ethic of a player, most notably quarterback Andrew Peasley. He told wide receiver Joshua Cobbs he loved him after snagging a long touchdown pass against Tulsa. He meant it. The change was noticeable and immediate.
After the season, nine players, including Cobbs, entered the portal. Most of those names never even saw the field during their tenures in Laramie. Cobbs likely left because of the Cowboys' run-heavy offense.
Linder is also a passionate man.
Ever since the day he arrived on campus, Linder has publicly touted his players. He has been ejected twice, both times fervidly sticking up for what he thought was unfair treatment from the officiating crew, mainly the punishment Graham Ike was taking in the paint. He even claimed if Maldonado fouled out on senior night, he was leaving with him.
"For those people that say he is not easy to play for, I mean, he is going to keep saying that, but he is easy to play for," Maldonado said last week in Las Vegas. "If you are about the right stuff, he is easy to play for. He gets on me when I do something wrong -- like every coach should -- but that's holding you accountable. If he didn't do that, I don't think I would be any good. I think this generation is a little soft when it comes to that. It's really hard. I think we take it a little personal sometimes, but like I told everybody in the locker room, I think when you take it personal it's because you're not making your effort personal. You're not going out there and giving it everything you have, and if we can't find a way to get you fired up, you're going to take it personal -- and we try to get you fired up.
"For me, he was really easy to play for. It was really easy to make the decision to stay. It was really easy to make the decision to come back to school for this sixth year. I love him with everything (I have). I know he has my back and I'll always have his back. He is one of the best coaches I've ever had."
Linder's credentials speak for themselves.
He took over a program in absolute shambles and two years later had the Cowboys dancing despite losing the league's Freshman of the Year, Marcus Williams. He secured the top recruiting class in the Mountain West during the heat of the COVID-19 pandemic. He did that over Zoom calls.
He made similar miracles at Northern Colorado prior to his arrival on the high plains.
"I know I have a high standard -- and I'm not lowering my standard," Linder said in late February. "I'm going to find guys that want to be held to a high standard, that want to be coached, that want to be pushed. They know, you know what, sometimes it's not going to come out the way you want to hear it, but at the end of the day, you're going to hear the truth."
Linder's work is certainly cut out for him this offseason. His current task is replenishing his roster and filling eight -- for now -- available scholarships. He now has a coaching vacancy, too, after Sundance Wicks accepted the head coaching job at Wisconsin-Green Bay on Tuesday.
The most impactful changes in this program might not take place on the recruiting trail or even on the court.
Maybe those need to come from within.
University of Wyoming's Top 50 Football Players
The rules are simple: What was the player's impact while in Laramie? That means NFL stats, draft status or any other accolade earned outside of UW is irrelevant when it comes to this list.
This isn't a one-man job. This task called for a panel of experts. Joining 7220's Cody Tucker are Robert Gagliardi, Jared Newland, Ryan Thorburn, and Kevin McKinney.
We all compiled our own list of 50 and let computer averages do the work. Think BCS -- only we hope this catalog is fairer.
Don't agree with a selection? Feel free to sound off on our Twitter:
@7220sports
- #Top50UWFB
- University of Wyoming's Top 50 Football Players