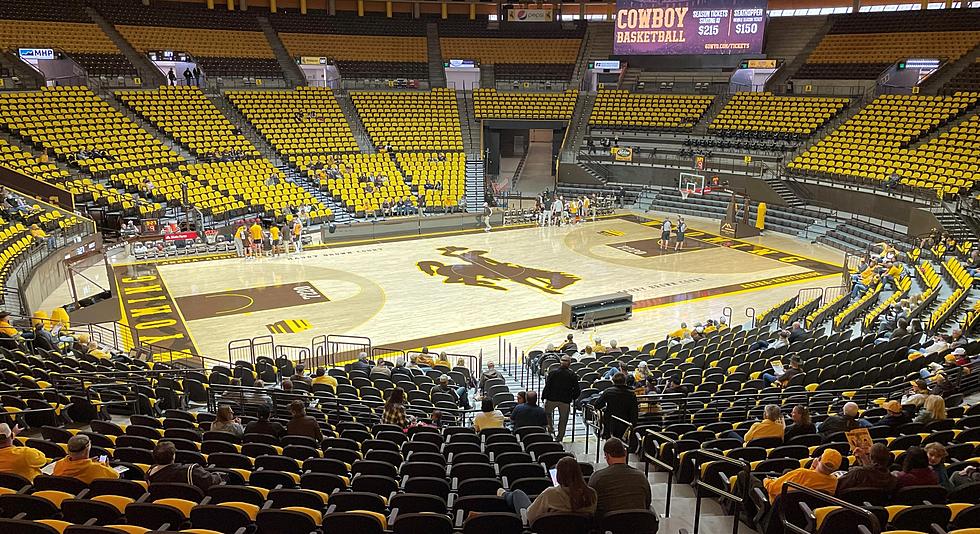 Gear up for gameday: Detroit Mercy
Today's Wyoming vs Boise State has been postponed because of virus concerns within the Broncos program./ Cody Tucker photo
LARAMIE -- I had to ask -- Is this team ready to complete for a Mountain West Championship right now?
"There's so many variables when you ask that question," Wyoming's assistant basketball coach Sundance Wicks said. "Certainly, that's a loaded question. You'd love to be able to put the headline out there and say, 'absolutely, yes.' But at the end of the day, we all know there's a lot of things that have to go right."
Very true.
The league is loaded this season.
Preseason favorite, Colorado State, hammered an Oral Roberts squad 109-80 Tuesday night in Moby Arena. That program played in the Sweet 16 last March.
San Diego State is still, well, San Diego State. UNLV is up and coming. Boise State will likely be a 20-plus win team and New Mexico is back in the friendly confines of The Pit after spending the 2020-21 campaign homeless due to the COVID-19 pandemic.
Utah State lost plenty of standouts and its head coach -- and fell last night at home to UC Davis -- but can still very much become a dangerous team. Same can be said for Fresno State and Nevada.
So, where do the Cowboys fit in?
The media thinks Jeff Linder's squad will finish tied for eighth in the conference with the Lobos.
Fair?
"I will say this -- we aren't an eighth or ninth-place team," Wicks said. "I'll tell you that right now."
A big reason for that optimism comes in a 6-foot-10, 252-pound package. If you thought Graham Ike was solid last year, Linder said, just wait.
"I think he could end up being one of the best post players in college basketball, sooner than later," he said of the Aurora, Colo., product who averaged more than 11 points and five rebounds in just 12 games. "I just look forward to having him out there and for the fans to see, because he's a guy that you don't see very often in college basketball with his ability not just to play with his back to the basket, but his ability to be a guy that you can put the ball in his hands on the perimeter and be a guy that can make plays."
The big man has plenty of help, too.
Xavier DuSell averaged nearly 10 points per game last season and shot 45.6% from beyond the arc. The freshman guard was also nearly 50% from the field while playing 24-plus minutes a night.
Hunter Maldonado is back in the mix, too. The UW veteran averaged 12.5 points per game in 2020-21 and led the team in rebounds (6.8) and assists (4.6). Kenny Foster, who is dealing with a high ankle sprain and will be limited early in the season, will also be a force on both ends of the floor. Same can be said for Drake Jeffries, Hunter Thompson and a new-look Jeremiah Oden.
Wyoming also welcomes the additions of guard Deng Dut, forward Nate Barnhart, guard Ben Bowen, guard Noah Reynolds and guard Brendan Wenzel.
Forward Eoin Nelson, who was injured for the majority of the 2020-21 season, will be back at full strength. UW's roster is rounded out by forward John Grigsby and guard Cort Roberson.
Linder said he plans to focus on seven to eight regulars and now has the luxury of a deep bench, something that was nonexistent last winter.
When Linder signed on the dotted line to become the Cowboys head coach on March 17, 2020, he had no idea lied ahead over the next 19-plus months.
After singing the No. 1 recruiting class in the conference -- over Zoom calls -- injuries and the virus itself persisted during Linder's first season on the sidelines. UW couldn't practice 5-on-5. He couldn't utilize his top teaching tool -- the bench -- with the lack of healthy bodies.
Still, the Cowboys finished 14-11, swept Nevada, knocked off an Elite-8 bound Oregon State squad on the road and won their opening-round matchup in the Mountain West Tournament.
He did all of that with one of the youngest teams in the nation.
What are Linder's thoughts on this upcoming campaign?
"You know, we have enough talent to where we can beat anybody in the league, but also, if we're not right, we also can lose to anybody in the league," he said. "I think that's the way the league is going to be this year. I think there's a lot of parity from the top to the bottom.
"So, if you're not ready to go and, if you're not really ready to put in the work that's required to be a really good team in this league, you're going to get smacked in the face."
The journey, no matter where it ends, begins tonight inside the Arena-Auditorium.
A little pregame reading:
* Linder inks Texas native Caden Powell

* UW basketball players taking advantage of NIL deals

* Pokes open season Wednesday against Detroit Mercy

* Graham Ike's 'special journey' just getting started

* Cowboys picked to finish tied for eighth in MW

* Practice report: Cowboys ready for Saturday scrimmage

* Kenny Foster's hardhat mentality beings energy to UW lineup

* Pokes offense will once again run through Maldonado

* Ike: 'They have no idea what they are about to see this year'

* Getting teams to play in Laramie no small task for Linder and Co.

* UW basketball to appear on national television eight times

* Wyoming basketball releases 2021-22 schedule
Here are all the links you need for tonight's meeting with Detroit Mercy:
WHO: Detroit Mercy (0-0, 0-0) at Wyoming (0-0, 0-0)
WHEN: Wednesday, Nov. 10 at 7:00 p.m. MT
WHERE: Arena-Auditorium, Laramie, Wyo.
TRAVEL REPORT: WyoRoad
TV: None
RADIO: Cowboy Sports Network
STREAMING: MW Network
TICKETS: GoWyo.com
BOX SCORE: Live stats
ROSTERS: Wyoming / Detroit Mercy
VEGAS ODDS: Wyoming -4.5, O/U 152.5
HISTORY: All-time series tied at 2-2 (UW won last meeting 79-46 in 2019)
HEAD COACHES: Jeff Linder / Mike Davis
POKES: The Seven Best Games In The History Of The Wyoming-CSU Border War Rivalry (Naturally, they were all Wyoming wins)