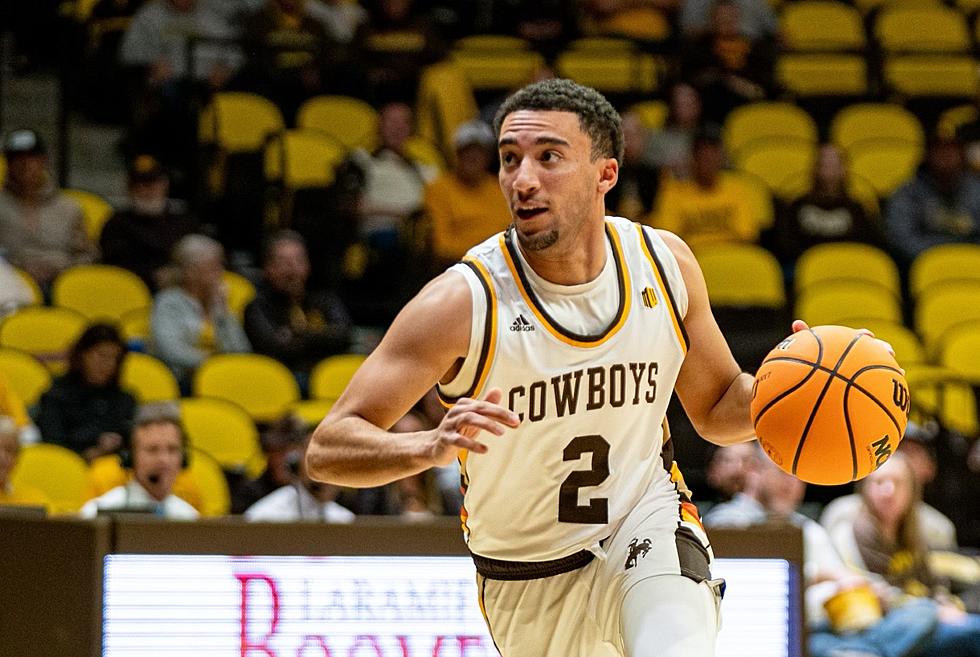 Kobe Newton Came as Advertised in Opening Games at Wyoming
Wyoming's junior guard Kobe Newton is averaging 9.5 points per game and leads the team in 3-point shooting, drilling 75% of his attempts through two games./ UW courtesy photo
LARAMIE -- "You need this guy."
That was the message Fullerton College basketball coach Perry Webster conveyed to Jeff Linder last spring after nine Wyoming players officially entered the NCAA Transfer Portal.
That guy: Kobe Newton.
Linder was all ears.
Webster once coached Chandler Hutchison, who went on to become the Mountain West Player of the Year under Linder at Boise State before becoming a 2018 NBA first round draft pick. He also sent Rodrick McCobb to Linder at Northern Colorado before the 2019 season. At various times he led the Bears in plenty of categories -- steals, blocks and assists.
"He's a guy that's a lot like me," Linder said of Webster. "He's a no-BS guy, he's a guy that holds guys accountable and he's a guy that's going to tell guys the truth."
What did he have to say about the 6-foot-2, 178-pound shooting guard from Portland, Ore.?
"You need a guy that you can count on," he told Linder about Newton. "He's a guy that's going to be an everyday guy that has a chip on his shoulder. He's a guy that, you know, there's going to be times in an open gym, he might get close to crossing the edge, but he's a guy that's always going to be really, really competitive.
"I think that's what you see."
MORE UW HOOPS NEWS VIA 7220SPORTS:
* UW-Saint Louis meet in opening round of Myrtle Beach Invitational
* Cam Manyawu named MW Freshman of the Week
* Manyawu lands second double-double, leads Wyoming to 80-66 win
* Linder inks three players to 2024-25 roster
* Cowboys shoot lights out in 104-56 season-opening win
* Cam Manyawu first Cowboy to land double-double in debut since 1998
* Tuck's Take: This Wyoming backcourt could by dynamic
* Tuck's Take: Play hard, compete, repeat
* Cowboys welcome Northern New Mexico in opener
* Pokes pull away late in 79-67 exhibition win
* Injury bug takes another bite out of UW hoops
In just 12 minutes against Northern New Mexico in the season opener, Newton was 3-of-4 from the field -- all triples -- in a dominating 104-56 victory. He added a rebound against the Eagles in his debut, too.
His minutes doubled last Saturday against visiting Cal Poly.
Newton netted 10 points on 3-of-5 shooting. Again, all three buckets came from beyond the arc. He tacked on a pair of boards in an 80-66 win. Newton leads the team, shooting 75% from distance. He's averaging 9.5 points per game off the bench.
Yes, he already has four personal fouls. One a flagrant.
Linder was warned about him getting close to the edge.
"In practice, it's funny, he doesn't think he did something," Linder said with a smile. "Well, I'm like, 'yeah, we got the video.' But, you know, the beauty of the game is officials can go straight to the monitor. So guess what? You get caught."
Newton splashed 170 3-pointers in his two seasons at Fullerton College, 90 of which came last season as he led his team to a California State Championship. In that title game, Newton connected on 7-of-9 from the perimeter and finished with a season-high 25 points in that 83-73 victory over City College of San Francisco. He also led the Hornets in scoring, averaging 13.7 points per game.
Newton became Linder's initial recruit in the 2023-24 class.
"The No. 1 reason for me was the opportunity to play for coach Linder," Newton said in late March. "He possesses a basketball mind that's second to almost none. The opportunity to learn and grow under him for two years was simply a no-brainer for me, considering I'd like to be a coach someday, myself."
He may not be the biggest or most athletic guard, Linder said, but Newton throws on his hardhat and goes to work.
"You know what he is? He's just a competitor," Wyoming's fourth-year head coach said. "He wants to try to beat the guy in front of him. There's not a lot of guys in this day and age that have that kind of level of competitiveness."
Newton and the Cowboys will take on unbeaten Saint Louis today at noon in the opening round of the Myrtle Beach Invitational. The game will be televised on ESPN 2.
So while 6-foot-9 freshman forward Cam Manyawu and the guard combo of Sam Griffin and Akuel Kot have stolen the headlines early in the season -- and rightfully so -- Newton has already shown a level of consistency on both ends of the floor. He wants to face the opponents' best shooter. He goes into the dirty areas. He battles.
He's exactly who Linder thought he would be.
"He's a really good piece to the puzzle," Linder said.
UW: University of Wyoming Cowboys' Greatest Games From the First Decade of the 2000's