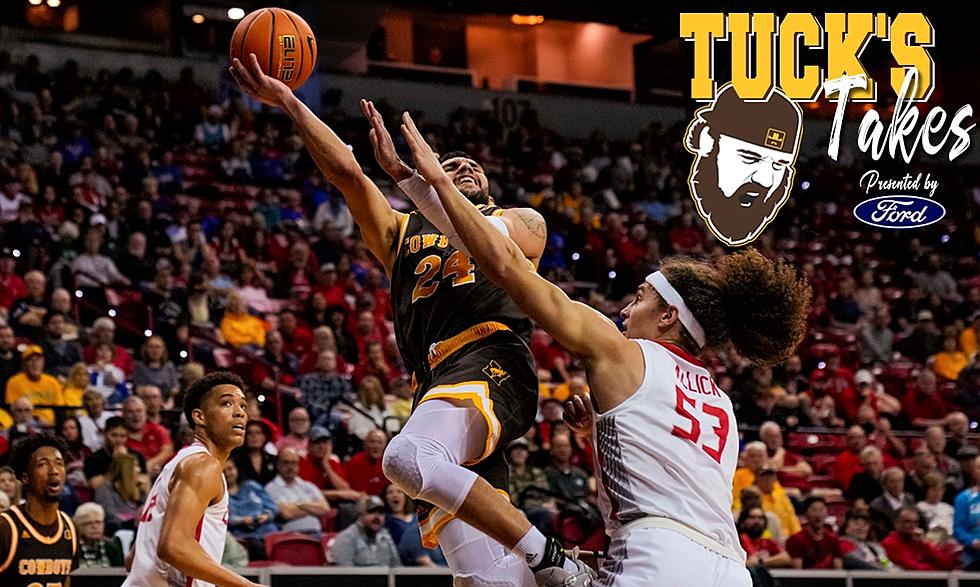 Tuck's Takes: We'll Never See Another One Like Him
Hunter Maldonado capped his legendary Wyoming career Wednesday in Las Vegas, netting 36 points against the New Mexico Lobos inside the Thomas and Mack Center./ UW courtesy photo
LAS VEGAS, Nev., -- The year from hell is officially over.
New Mexico tossed the final shovel full of dirt on the Cowboys' 2022-23 season today inside the Thomas and Mack Center, erasing a three-point halftime deficit and rolling to an 87-76 victory in the quarterfinals of the Mountain West Tournament.
Credit much of that to the Lobos' dynamic guards, Jaelen House and Jamal Mashburn Jr., who combined to score 50 points, 33 of which came in a dominant second half that saw Richard Pitino's team outscore Wyoming, 52-38.
I could use this space to tell you the Cowboys were badly outplayed in the paint (44-26), allowed the Lobos to shoot nearly 60% in the final frame and netted 18 points off 11 UW giveaways.
I won't waste your time. It was another game, another hard-fought loss. That's been the theme of this campaign. Since early February, anyway.
No, I would rather take this time to tell you the tale of a guy who made a lot of people cry today. Maybe even you. Hell, I'll admit it, some moisture formed in the corner of my eyes, too. Same can be said for at least one of my colleagues.
No need to be embarrassed. We witnessed greatness today.
But then again, that's nothing new.
Hunter Maldonado poured in a career-high 36 points today in Las Vegas. He connected from deep. He drilled the fadeaways and turnaround jumpers. He tossed up a few prayers, including a levitating underhand scoop that somehow hit glass and splashed.
Maldonado dove for every loose ball. He crashed to the court after driving the lane, time and time again. He even took two inadvertent shots to the face while contemplating his next move.
It was a vintage performance. That's what we've come to know from the stoic senior.
"The greatest compliment, I believe, that you can give any human being is to be consistent and accountable everyday. To show up the same way, every single day," a teary-eyed Sundance Wicks said postgame, looking over at Maldonado several times during his opening statement. "... He shows up every single day and he's the same person. To me, that's what the story is about."
The Colorado Springs product finished 11-of-19 from the floor and added five rebounds and a steal. The leading assist man in Wyoming and conference history only dished out three of those in this one.
Maldonado was selfish today. It was out of necessity.
"He willed us to a lot of possessions today," Wicks added.  "... He did not want the season to end."
Pitino opened his portion of his press conference wishing Jeff Linder and his family well. Wyoming's third-year head coach is in Denver with his ailing father. The two spoke before tipoff. The conversation with the media quickly shifted to Maldonado, who he called "one of the best players" he's ever coached against.
The two shared an extended moment together in the postgame handshake line.
"For one, I never want to see that guy again," UNM's head coach joked. "He is unbelievable. What a unique player and an absolute warrior, and that's what I told him. I said, 'you are a warrior.' He dominates the game. He does it with class. He is loyal, which I know Coach Linder had said. That's kind of rare in the world that we're living in today to stick through a coaching change and to stick it out.
"So, I've got so much respect for him. A unique, unique player who is shooting the ball better. But, yeah, I just told him I have so much respect. I don't like playing against him, but, wow, is he a terrific player and so much character and substance to him."
Josiah Allick was on the defensive end of Maldonado's big night. New Mexico's forward was often in position, but it didn't matter.
Maldo was doing Maldo things.
"No, I mean, like coach said, he is a hell of a player," Allick said. "Obviously, we had our battles the two times we played them during the conference season, but, I mean, I tried to do my best to just make him have to work for it a little bit harder. I mean, he was making some really, really high-level plays and shots."
He always does.
Just ask Nevada's Martin twins, Colorado State's David Roddy, Utah State's Sam Merrill or any number of San Diego State's standout guards over the previous six seasons.
"I'm obviously pretty emotional right now, but at the end of the day, that's why I work so hard, is to get that respect from Coach Pitino and to leave a legacy like I've tried to leave at Wyoming," Maldonado said.
Xavier DuSell was asked what it was like to be Maldonado's teammate. He had an answer. A somber Hunter Thompson, who also finished his career at UW tonight, couldn't share his thoughts at the moment, adding he would talk to Maldonado "in 30 minutes." Always a jokester.
"Well, first off, you know, he has been a tremendous leader to myself and the rest of the guys in the locker room," DuSell said. "He has taught me so much, not only as a player, but, you know, how to be a man and how to show up every single day with your hard hat on ready to go to work, regardless of the circumstances. He is just a class guy and it's been an honor to be able to wear the brown and gold next to him."
It's been an honor to watch him, too.
Maldonado is the only player in Division-I history to net more than 2,000 points, pull down 800 rebounds and dish out 600 assists. Those are gaudy numbers, but that's not what I'll remember most about No. 24.
He wasn't flashy. He rarely showed emotion (aside from when he fouled out tonight with 1:12 remaining and lit into an official.). He was a calming presence, never letting his teammates get too high, or, in the case of this nightmare season, too low.
Whether he unleashed a no-look pass that turned to points, capped a possession with a jam or swished a hook shot, he simply got back on defense.
This March was supposed to feature a ceremonial climb up a step ladder, scissors in hand. Confetti was supposed to fall. Another anxious Sunday of waiting and praying was on tap. Who would the Pokes play in the postseason? How far would they go?
Things didn't go to plan, to say the least.
Maldonado never wavered.
We witnessed greatness.
Senior Sendoff: Hunter Maldonado & Hunter Thompson
Today we celebrate the careers of Wyoming basketball players Hunter Maldonado and Hunter Thompson, who tonight will play their last game inside the Arena-Auditorium in Laramie