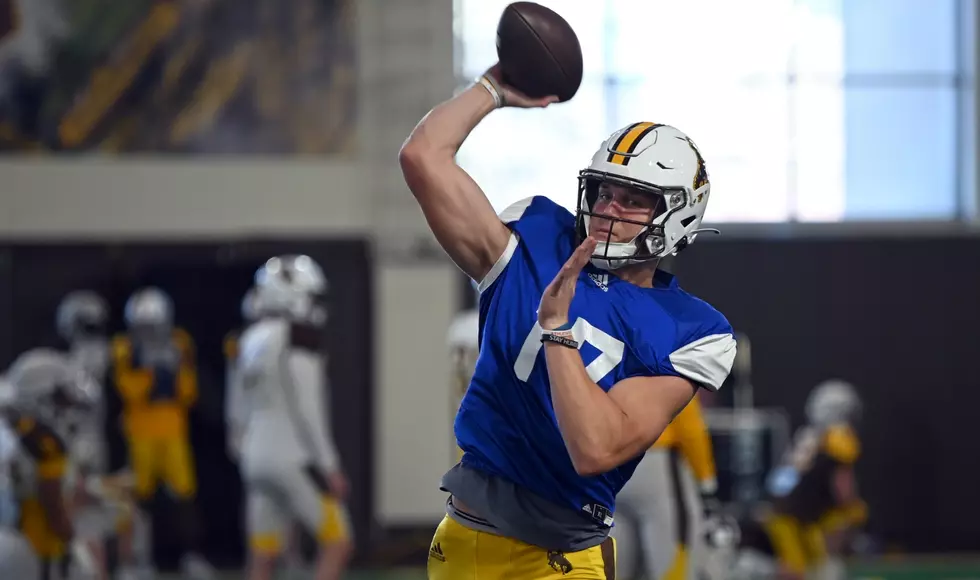 5 Things to Keep an Eye on During Saturday's Wyoming Spring Game
Sophomore QB Evan Svoboda goes through individual drills inside the Cowboys' indoor practice facility this spring./ DJ Johnson photo
LARAMIE -- We don't yet know what the active roster will be for Wyoming's annual spring game, but we have an eye on a few players, position groups Saturday afternoon inside War Memorial Stadium.
Kickoff is slated for 2 p.m.
Some familiar faces will be missing. Easton Gibbs, Braden Siders, DQ James, Frank Crum, Cole Godbout, Shae Suiaunoa, and a handful of others, will not participate.
We already know what that cast of characters can do on a football field.
While a majority of the incoming freshmen class is still wrapping up their high school careers, we will get a glimpse at some of the youth in this program, including players like offensive linemen Wes King, Rex Johnsen, Luke Sandy and Forrest Scheel.
Speaking of those guys, let's start the list:
WYOMING'S STARTING 5:
Emmanuel Pregnon just announced his commitment to USC on Wednesday. Eric Abojei is hoping to hear his name called at this weekend's NFL Draft. Zach Watts and Marco Machado retired after the 2022 season.
Carlos Harrison is gone. So is Jagger Filippone, Kohl Herbolsheimer, Deshawn Woods, Mason Schultz, Jack Lookabaugh and Mykel Janise.
Despite all those departures listed above, Bohl said he feels good about this unit. Still, he is in search of at least eight game-ready players in the rotation. That is still sorting itself out.
"Some of the younger offensive linemen are doing well," Wyoming's head coach said. "Luke Sandy is emerging and doing well. (So is) Wes King and Forrest (Scheel). We're just kind of developing. I mean, you very rarely (go through your season) playing with five guys. So, we have to develop some depth."
Jack Walsh and Crum bring experience to this group. So does center Nofoafia Tulafono. Ethan Drewes has also made the move from defensive tackle to offensive guard. Line coach Joe Tripodi said he is already knocking on the door to enter the rotation.
WE KEEP HEARING ABOUT THOSE TIGHT ENDS:
Nearly every press conference this spring, Bohl has mentioned the duo of Treyton Welch and John Michael Gyllenborg.
We know this unit plays a major role in the running game, but from the sounds of it, actually catching balls downfield could be added to the game plan.
We saw glimpses of that from Welch in 2022.
The junior tight end snagged a career-high 22 passes for 308 yards and five touchdowns. His best outing came against New Mexico where the Minnesota native hauled in a pair of touchdowns, including on down the seam from 47 yards out.
Gyllenborg, a 6-foot-5, 243-pound sophomore from the Kansas City area, finished the year with three grabs for 21 yards. All of that production came in the Cowboys' regular-season finale at Fresno State.
"A couple of things that impressed me, one, our play-action pass game and getting the ball downfield, particularly, with Treyton and John Mike," Bohl said after the April 20 practice in Laramie. "I think that can be really beneficial for us to utilize that."
Colin O'Brien finished the season with four catches for 83 yards and Bohl has mentioned Rock Springs native Isaac Schoenfeld as a young player to watch.
WHO'S TOTING THE ROCK:
This won't be your first look at Harrison Waylee.
In 2021, then at Northern Illinois, the 5-foot-10, 192-pound running back gashed the Pokes to the tune of 179 rushing yards on just 26 carries. He scored twice, including beating the UW secondary for a 75-yard sprint to the end zone.
The visitors pulled off a 50-43 victory on a steamy afternoon in DeKalb, but Waylee's performance made such an impression on this staff they picked up the phone immediately after the junior entered the transfer portal.
Saturday, we might get our first glimpse of the Iowa product in a Cowboys' uniform. Waylee is dealing with some knee swelling, according to Bohl, and could be sidelined.
"At NIU, I actually felt like I was being held back from what I can actually do," he said. "At NIU, they kept me in as a blocking back and a running back, I didn't really do too much in the passing game. Here, they want to use me everywhere and I'm glad to do that."
Holding him back?
During Waylee's three-year career at NIU, he rushed for 1,929 yards and 10 scores. If that's holding him back, look out.
Also, pay attention to No. 22 in Wyoming's backfield Saturday afternoon. That's Sam Scott, the former linebacker who moved to running back just before the Arizona Bowl. That wasn't just an emergency position change, it's full time. Bohl said he will get plenty of work in the spring game.
Aaron Bohl, UW's linebackers coach, said Scott "possibly the best athlete on the team."
That's high praise.
WHO'S TURNING HEADS IN THE LINEBACKER ROOM?
If you read closely above, you know last year's starters -- Gibbs and Suiaunoa -- won't play Saturday. That duo has missed the entire spring, rehabbing from offseason surgery. Same goes for Michigan State transfer Cole DeMarzo.
Who's left?
Connor Shay, for one.
Though he's been patrolling the middle of the defense during these 15 spring practices, the 6-foot-2, 230-pound junior could be in the mix for a starting position on the outside when the fall rolls around. At the very least, he's getting plenty of work and will add to a young rotation that already includes Read Sunn, Cayden Hawkins and Micah Young.
"He's playing with much more confidence and putting all the pieces in place," Bohl said of Shay. "I think he's going to be a guy that will really challenge for a starting spot this fall. The other guys that are not out there -- it's not their fault that they're not out there -- but I know this is a guy that's out there practicing and getting better. You know, we have to take a hard look at that."
Shay, who received offers out of high school from Mountain West foes Fresno State, Nevada and UNLV, along with Power-5 Utah, said the attention he has garnered this spring validates where he is in his progression.
"It means a lot," he said. "It shows that the work I've put in is getting results. I've worked hard all offseason. Since I've been here, I've just been waiting for my opportunity.
"When my opportunity comes, I'm going to be ready for it."
ALL EYES ARE UNDER CENTER:
Andrew Peasley will be the Cowboys' starting quarterback when Texas Tech comes to Laramie Sept. 2 for the season opener in Laramie.
Sorry to kill the suspense.
Barring anything crazy, the senior will once again take the reins of an offense that underwhelmed in the passing game, finishing 125th in the nation after averaging just 132.2 yards per game through the air.
Only programs like New Mexico, Army, Navy and Air Force featured worse passing attacks. Those teams also primarily run the option.
New QB, same ol' story, right?
Of course, we will all be looking for a glimmer of hope in that department come Saturday.
Peasley threw for 1,574 yards and 10 touchdowns in 2022. The Oregon native completed just 52.4% of his throws and tossed nine interceptions, too. Consistency will be the name of the game this fall, and that doesn't just land squarely on Peasley's shoulders. Linemen need to block, receivers need to get separation and make the grab.
Peasley's performance in this glorified scrimmage will be under a watchful eye from the UW faithful, but the same can be said for Evan Svoboda.
The 6-foot-5, 245-pound sophomore looks the part. By all accounts, he can throw it a country mile. UW's staff has given him plenty of reps this spring in hopes that he will take the next step. Apparently (remember, the media isn't allowed at practice), he has.
"He's making some real progress at the quarterback position," Bohl said in early April. "... Evan is a guy who we felt like had a real strong arm, but his refinement to play the quarterback position wasn't there. We're giving him ample opportunity to grow. There's going to be competition there."
By competition, he means between Svoboda and Jayden Clemons for the back-up spot. Clemons appeared in four games a season ago, completing 12-of-29 attempts for 145 yards. He threw one touchdown -- a go-ahead 32-yard strike to Alex Brown to help knock off Colorado State -- and three interceptions. That trio of picks came courtesy of Boise State.
I probably didn't need to remind you of that.
UW FOOTBALL STORIES FROM SPRING FOOTBALL:
* Pokes Practice Report: It's go time in Laradise
* Here's what you need to know about Wyoming's spring football game
* Pokes Practice Report: Be careful when you question loyalty
* Caleb Cooley: 'It's hard to get that confidence back'
* Former Wyoming QB-turned-WR Gavin Beerup in the portal
* Pokes lose 240-lb RB, 4-star recruit to transfer portal
* Jayden Clemons: 'I definitely had to fight that demon'
* Pokes Practice Report: Who can make a play?
* Turns out, tough guys do come out of Orange County
* Wyoming's Craig Bohl still vows to develop despite P5 admiration
* Pokes lose three to NCAA Transfer Portal, overall count now at 12
* Pokes Practice Report: Bohl not comfortable with just three QBs
* Pokes Practice Report: Saturday scrimmage a real dress rehearsal
* Cole Godbout prepping for final ride in Laramie
* Wyoming QB Hank Gibbs entering NCAA Transfer Portal 
* Potential Landed an Untapped John Michael Gyllenborg at UW
* DQ James on fallen teammate Tony Evans Jr: 'I think about him a lot'
* Wyoming's staff sticks with Texas QB despite two ACL tears
* Wyoming's Connor Shay vying for starting linebacker spot
* Sam Scott has found a permanent home in Pokes' backfield
* Craig Bohl looking for "2% more" from this football team
* Pokes Practice Report: Does Wyoming finally have cornerback depth?
* War Memorial Stadium upgrades to begin this fall
* Wyoming's newest running back looking for larger role in Laramie
* Caden Becker not only welcomed a position change, he asked for it
* Pokes Practice Report: Preparing for Texas Tech? Already?
* Wrook Brown prepared to 'pay rent' to keep starting job
* Sabastian Harsh entering 2023 season with a new perspective
* Pokes Practice Report: Consistency at QB a must this spring
* 2023 Wyoming spring practice off and running
* 10 thoughts heading into Wyoming's spring football camp
LOOK: Pokes' unis through the years